When the Covid-19 outbreak in Singapore made hosting the annual SMU Open House on campus impractical, SMU made it 'virtual' with very real success.
Buzzy new management concepts arise to hold the business world in thrall on a regular basis. And in recent years, the idea of formulating strategy that is alert to VUCA (an acronym for volatility, uncertainty, complexity, and ambiguity) has branched out from its military roots into both boardrooms and classrooms.
That includes the classrooms of SMU, where students learn about the implications of living and working in a VUCA world. And earlier this year, the University's administrators and faculty got a refresher course in putting this theory into action themselves when the emergence and spread of the coronavirus worldwide led to a short-notice change in SMU's Open House plans. As Andrew Low, the Senior Associate Director of the Office of Undergraduate Admissions & Financial Assistance, puts it, what happened next was "truly VUCA in action".
The planning for SMU Open House 2020 had started way back in July 2019, and the event was slated to take place on campus on February 29 and March 1, 2020. Reports of the coronavirus began surfacing in December 2019, and the Open House team kept close tabs on how the situation was evolving as they reached the implementation and execution stage of the event in early January 2020.
"While hoping for the best, we knew we had to be prepared for the worst scenario," Andrew recounts. By the first week of February, after much serious consideration, the University had decided to turn the Open House into a virtual event for the safety of the SMU community and prospective students. That left everyone barely three weeks to make all the necessary preparations.
The Admissions Office was in charge of Open House, and its team quickly met up with colleagues from various departments to determine everyone's roles and responsibilities. Goh Wee Sen, Associate Director (Web and Media Technologies) from the Office of Integrated Information Technology Services, recalls that February 7 meeting: "Incidentally, it was also near the moment when Singapore elevated our DORSCON [Disease Outbreak Response System Condition] to level Orange. Surprisingly, the team was quite calm upon hearing the news. Maybe we were not quite able to imagine yet the scope of work that needed to be tackled in the next few weeks."
Jenny Tang, the Senior Assistant Director of Digital Strategy & Marketing from the Office of Corporate Communications & Marketing, also took a similar matter-of-fact approach. The crucial task at hand: coming with a game plan. "We needed to think about what was possible to achieve within three weeks," she says. "We wanted to create opportunities for Open House attendees to experience SMU's culture, the pedagogy, and enable them to talk to current SMU students, which we have found to be a very persuasive recruitment tool. And we had to achieve these three objectives in an online format." Another important goal, says Andrew, was to ensure that "all the key touch points remain as warm, interactive and impactful as they would have been at a physical Open House".
While the details were worked out, SMU continued to communicate to prospective students through various channels that the Open House would definitely happen and asked them to stay tuned for more details. This was to ensure that those interested in attending would continue to look forward to the event.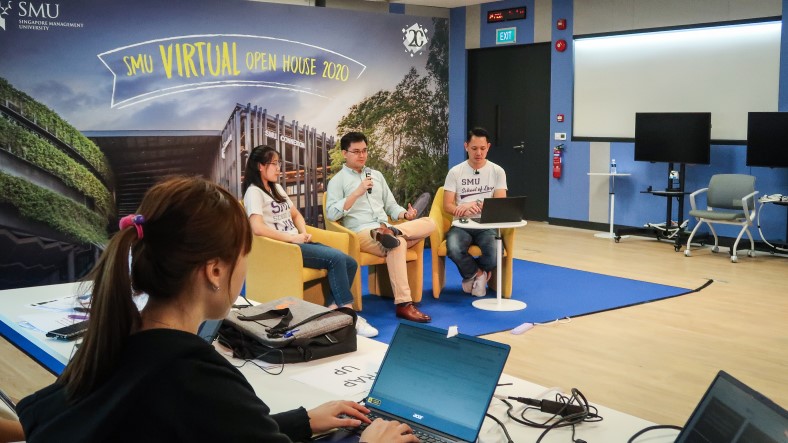 Crunch time
Meanwhile, crucial decisions were being made. The static SMU Open House microsite had to be converted into a more interactive platform that would be able to host the Virtual Open House [https://admissions.smu.edu.sg/openhouse]. Angela Seah, Head of Marketing at the Office of Undergraduate Admissions, and her team began to work with the website developer on this.
"One of the biggest challenges was to make the microsite immersive and content-rich," she says. "After all, a Virtual Open House had to give visitors a completely different experience compared to a static website. To do this, teams quickly implemented various solutions." These ranged from small touches like making the Open House logo a gif to create movement on the landing page, to creating SMU's first 360-degree virtual reality campus tour, as well as a campus tour video hosted by students that would give visitors a strong sense of the SMU culture. In anticipation of a traffic surge on the site, the IT Office also took measures to calibrate the bandwidth capacity to prepare for all possible scenarios.
On 29 February 29 and 1 March, this platform would link attendees to the platform Zoom, which would host live webinars where alumni, faculty and students could present information and share experiences about their respective Schools in real time. Attendees would also be able to take part in live chats with admissions counsellors, students and faculty. The Communications Office briefed representatives from the University's six Schools on various webinar formats, such as master classes and panellist sessions, and began to organise dry runs. There were many technical considerations involved. The webinars would be held in SMU's new active classrooms, which were equipped with cameras for recording. Different laptops had to be set up to control these cameras, the sound systems, and the Zoom platform. Since Open House attendees could type in their questions in real time, a team was trained to moderate and channel these questions to webinar speakers. To make the experience more user-friendly, an interactive filtering function for the webinars' schedules would also be implemented to enable visitors to find webinars that catered to their interests. Another type of key content for the Virtual Open House would be information sessions in the form of short videos, where featured speakers could talk about topics such as different majors and student life experiences in SMU. These would be presented as a video wall on a sub-page of the Open House website.
These videos could be created in advance, and the IT Office set about getting this done. To ensure high-quality production values, "we decided that these videos would be recorded in the IITS studio at the Library", says Wee Sen. There, the team set up lights, cameras, and prompters, and conducted briefings on how to use the streaming platform that would be hosting the videos. "The media team established the styles, lower third titles, and created shared video-project spaces so that producers could collaborate effectively. As time was tight, it was important to make sure Schools stuck closely to the allocated times for recordings, and came prepared. The biggest challenge was that we had three working days for post-production, to produce over 30 videos."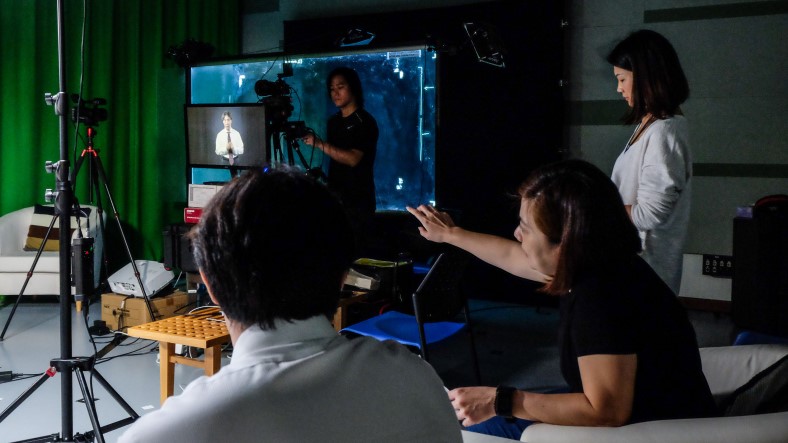 Going live
In all, SMU's Virtual Open House encompassed 52 live webinars, over 600 live chats, and 35 information videos. The sites comfortably handled 53,000 visitors (about twice the usual number), and 245,000 page views for the seven days from 25 February to 2 March — including double the visitor number of 2019's physical Open House during the weekend alone. In fact, SMU reached 55,000 audience merely from direct postcards, and this is excluding the online sessions, emailers and social media.
"In terms of the information videos, and the site availability and response times, it was actually relatively smooth running," says Wee Sen. "The videos that were made available two days before the Open House weekend registered some 7,400 playbacks in four days, and over 33,000 minutes viewed.
As for the webinars, these drew 3,853 visitors, and close to 70 per cent of the Virtual Open House attendees surveyed indicated that they enjoyed these live sessions the most out of all the available activities. Says Jenny: "The tech issues were actually very minimal, and we were able to handle these well because of the previous dry runs."
Indeed, says Andrew, "people who visited our Virtual Open House were pleasantly surprised that it was so multi-faceted, with an array of exciting activities. Most people expressed appreciation that the experience was very personalised and user-friendly".
The 2020 Virtual Open House website will be up until late May. That means those who were not able to watch the webinars live can simply view the recorded sessions at their convenience, and check out the various information videos. Live chats with admissions counsellors will also continue to be held online every weekday from 3 to 6pm until late May. "The materials produced for the Virtual Open House have proved to be incredibly useful resources for enriching our website," says Wee Sen. "It means our Open House can now be everyday, online."
Everyone involved was able to overcome the challenges of the situation because of effective collaboration and communication, and the autonomy they were given to act decisively, he adds. "In a crunch, when you trust and empower the various units to bring their expertise to tackle the issues at hand, quite often these will be addressed. It helps when the objectives are well defined. But even when conditions change (which is often nowadays), teams must be able to adjust and adapt quickly and appropriately."
Indeed, for Andrew, the biggest learning point from this experience was that "The people we work with are the ones who determine the outcome of the event. There is a great sense of camaraderie and teamwork between all the different departments. The Virtual Open House would not have been possible without the boundless contributions from our colleagues, who were our superheroes behind the scenes. We were practically in uncharted territory, and had to step out of our comfort zones. This was a truly collaborative effort where everyone chipped in to offer solutions and contributed based on their strengths and expertise. Together, we exemplified the 'One SMU' spirit."
Visit: SMU Open House and SMU Admissions.