SMU Associate Professors Steven Hoi and David Lo are among just 62 recognised individuals globally.
While the entertainment industry has its annual awards season of Oscars, Grammys and Golden Globes, the Association for Computing Machinery (ACM) recognises luminaries in computing and information technology for their influential contribution and innovative achievements. In 2019, the organisation inducted 62 people into its Distinguished Member programme, and among the recipients were two SMU School of Information System dons, Associate Professor Steven Hoi and Associate Professor David Lo.
For the uninitiated, the ACM is the world's largest educational and scientific computing society. The Distinguished Member programme recognises ACM members with at least 15 years of professional experience as well as five years of continuous Professional Membership who have achieved significant accomplishments or have made a significant impact in the computing field.
In addition, a Distinguished Member is also expected to serve as mentor and role model, guiding the technical career development of other ACM members at the same time. Only 10 per cent of the organisation's top members are given this prestigious recognition globally.
We speak with both Associate Professors Hoi and Lo on their contributions and achievements to the field of computing.
The analyst
Associate Professor Steven Hoi has been a faculty member at Singapore Management University (SMU) since 2014, and in addition to teaching undergraduate and postgraduate courses, he is also a lead Principal Investigator at SMU's Living Analytics Research Centre.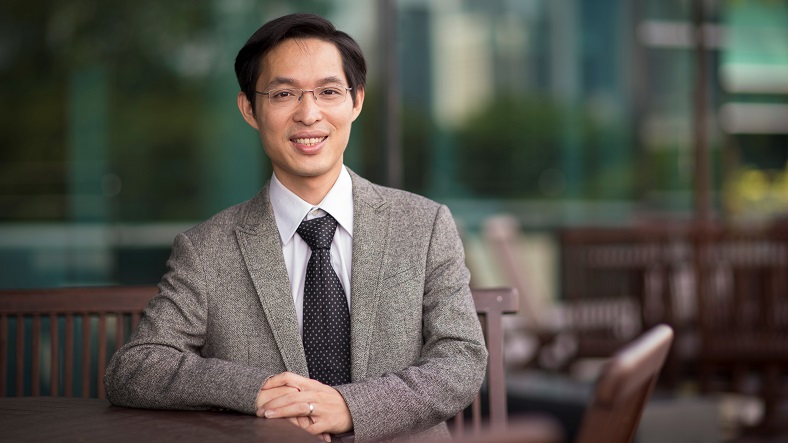 With more than 15 years in the academic field, Assoc Prof Hoi has published over 200 papers in refereed conferences and journals. In fact, his publications have been widely cited, reflected in more than 10,000 citations as well as a H-index of 55, which is a metric measuring both productivity and impact of the publications of a scientist or scholar.
Thus far, his research contributions cover both fundamental research in machine learning methodologies, practical machine learning research for a wide range of real-world application domains in artificial intelligence (AI) and data science.
Assoc Prof Hoi's interest in machine learning stemmed from his graduate study. At that time, he worked on content-based image retrieval (CBIR) projects during which he enhanced CBIR systems by effectively exploiting user's relevance feedback, while minimising user's annotation effort.
After analysing and studying this issue, he realised that such "practical problems could be essentially formulated as machine learning tasks, for example, active learning, which aims to learn a model to select informative unlabelled data in order to maximise the accuracy of the trained model while minimising the amount of labelled data".
But that's not all that Assoc Prof Hoi has delved into. Beyond fundamental research in machine learning methodologies, he has also been investigating the applications of these machine learning technologies in real-world scenarios. "I believe machine learning and deep learning will create increasingly huge impact in business by helping enterprises towards digital transformation in their industries," he adds.
One of his biggest achievements include the development of a food image recognition programme called FoodAI that uses deep learning. This technology has since been successfully incorporated into the Health Promotion Board's Healthy365 app that facilitates smart food logging by users. First, snap a photo of the food you're eating. Next, the image is recognised and logged by the app and the estimated calories are then provided so you can keep track of your daily calorie intake.
So does Assoc Prof Hoi believe that there can be more to machine learning? While it has been applied to many industries, he personally believes that "machine learning for building human-like intelligent systems that can learn like humans and enjoy reasoning and explanation abilities will be one of the very exciting topics in the next decade".
The mentor
Having published over 300 papers in refereed conferences and journals, along with more than 11,000 citations listed on Google Scholar with a corresponding H-index of 58, Associate Professor David Lo is the go-to guy at SMU when it comes to software analytics. His research is at the intersection of software engineering and data science, and encompasses socio-technical aspects, analysis and the interplay between them.
According to Assoc Prof Lo, his interest in the field was first piqued during his final year project as an undergraduate at Nanyang Technological University (NTU). He says: "I worked on the topic of Bioinformatics specifically on the analysis of genomic data to uncover insights. This made me interested in the area of applied data science."
He then went on to work at the School of Computing at National University of Singapore (NUS) as a research assistant in a programming language lab which sparked his interest in software engineering and programming languages. This led him to combine his two interests for his doctorate, pursuing "the area of software analytics — that is, the design and development of specialised data science solutions for software engineering datasets to uncover insights and automate manual tasks".
Aside from his research work, Assoc Prof Lo is also big on mentorship, having trained and guided 10 PhD students who have gone on to secure employment at high-tech companies, world-class universities and research institutions across the globe.
"When I mentor students, I learn many things in the process," he shares.
"I benefit from the exchange of ideas during the many discussions that I have with students each week. During these discussions, we identify potential solutions to various research challenges and new research opportunities."
He encourages students to spearhead research in various software analytics subtopics and through each discussion session, he shares his thoughts, potential solutions and even future directions based on what they have shared. And because knowledge shared is knowledge gained, Assoc Prof Lo even links his students with other experts in the field, be it other SMU faculty members or academics from other universities, should the need arise.
"Without my students, I will not be able to complete many of my research projects. Without a doubt, my students have contributed to my growth, both as a researcher and mentor."
And when asked if there's a secret to his impactful research papers — the latest of which was focused on a state-of-the-art system for detecting emerging WeChat app issues by analysing a stream of user feedback, Assoc Prof Lo says there isn't any. Instead, he adds the difference lies in hard work and the selection of the right research topics.
He adds that "in support of open science, we make many of the source code and datasets that we created and collected during our research publicly available so that others can extend our work and replicate our findings".
Moving forward, Assoc Prof Lo says that he hopes to be able discover more breakthroughs in the adaptation of software engineering tools to Artificial Intelligence (AI) system development.
" AI systems are currently being deployed in various settings influencing decision making in both the public and private sectors," observes Assoc Prof Lo.
"Ensuring the quality — such as reliability, trustworthiness and security — of such AI systems and reducing the cost involved in the development and maintenance of such systems are certainly very important."
In addition, "recent studies have shown that there are many differences between traditional and AI system development, and thus new tools and methodologies are needed. Effective tools and methodologies in this area of AI system development will be impactful and influential".
Currently, Assoc Prof Lo is also a member of the Living Analytics Research Centre at SMU, and is involved in the Job and Skill Intelligence project to develop data science solutions to help job seekers and decision makers gain insights into Singapore's job market, as well as in identifying valuable skills in their career choices and paths.