On 22 September 2023, SMU launched two innovative sustainability programmes – the Master of Sustainability (MST), and a Second Major in Sustainable Societies (SSOC). These were launched as part of a suite of sustainability courses and programmes that aim to develop sustainability leaders and meet the needs of a green economy.
MST is jointly helmed by the School of Social Sciences (SOSS) and the College of Integrative Studies (CIS), while SSOC is offered by SOSS as a second major available to all SMU undergraduates.
The two new programmes were launched as part of the SMU Sustainability Series 2023, which started in July, and will run until November 2023. This curation of sustainability-focused events is a means through which SMU continues to engage with stakeholders and partners to further the discourse on sustainability, and showcase the key milestones that have been achieved as charted out in the university's Sustainability Blueprint.
Attending the launch as the Guest of Honour was Mr Lim Tuang Liang, the Government Chief Sustainability Officer. Mr Lim helms Singapore's various sustainability efforts, like the Singapore Green Plan 2030, and works with both public and private sector organisations to develop and implement strategies that help to advance Singapore's sustainability agenda.
In his keynote address, Mr Lim addressed how imperative climate action is for Singapore, and shared some information on how Singapore is organising its sustainability efforts through the Singapore Green Plan. He then addressed how programmes such as SMU's two innovative sustainability programmes would equip future change leaders who can help to develop effective solutions in the sustainability space.
"As we chart our path and navigate through the complexity towards more sustainable societies, we need lead thinkers who understand, challenge, innovate, and collaborate with each other to deliver effective solutions," he said.
"The knowledge and skills you will acquire through the programmes such as SMU's Second Major in Sustainability Society and the Master of Sustainability will equip you for the needs of the green economy."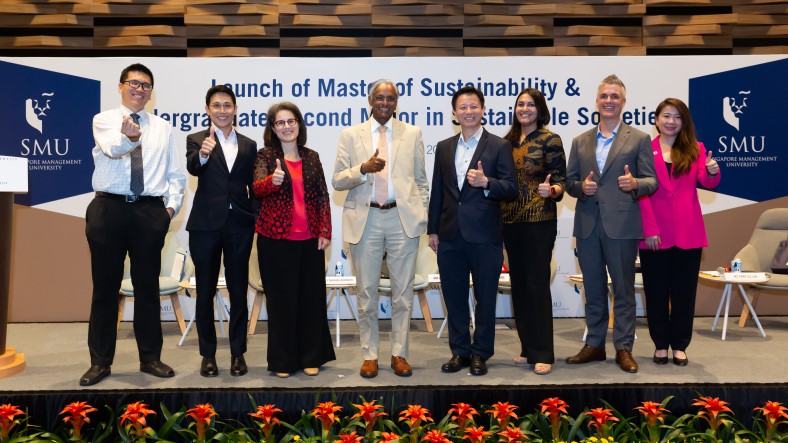 A multi-disciplinary approach to navigating complex sustainability challenges
The two programmes are inspired by the United Nations Sustainable Development Goals (UNSDGs), and aim to simultaneously instil in students an appreciation as well as a sense of urgency on the complexities, trade-offs, and synergies that sustainability presents for society and the world we live in.
Professor Chandran Kukathas, Dean of SOSS, shared some of the elements that were taken into consideration in setting up these programmes during his welcome address. "One of the things that we've wanted to do in setting up these programmes is a broadening of the understanding and approach to issues of sustainability by taking these questions out of the narrow focus of simply environmental concern and focus on a sustainable society."
Elaborating further, he continued, "We need to understand the different elements that comprise a society. We need to understand clearly economic and environmental policy, and how this involves different interactions among different sectors of society."
To achieve this, MST is poised to be a first-of-its-kind programme, fusing expertise while leveraging the research and pedagogical strengths of SOSS and CIS, along with the expertise of other schools at SMU. The result is a unique curriculum that can meet the continuously evolving needs of professionals and employers.
While embarking on the MST, students will be required to take courses that inculcate crucial skills in the areas of sustainability reporting, systems thinking and collaborative governance.
For undergraduates, SMU's SSOC has been made available since the start of Academic Year 2023. This undergraduate programme hopes to groom the next generation of green economy professionals who will make a difference and inspire others to contribute to an equitable and sustainable world.
Through a problem-solving approach, students will learn to engage in depth with major issues in sustainability, understand current trends, and grapple with real-world trade-offs.
The programme also seeks to impart to students the human dimensions of what it takes to address the world's climate challenges. Courses will highlight how sustainability and climate concerns intersect with inequality, poverty, gender issues, as well as the food, water and energy systems that are essential to human life.
See also: SMU launches two Innovative Sustainability Programmes – Postgraduate Master of Sustainability and Undergraduate Second Major in Sustainable Societies.