Since 2012, Reef Alert has partnered with the Thresher Shark Reef & Conservation Project (TSRCP) in Malapascua, Philippines, aiding in conservation efforts through activities like data collection, surveys, and helping to educate the community that is local to the area.
When the new project team started work back in 2022, Reef Alert also welcomed a partnership with Our Singapore Reefs (OSR), a non-profit organisation established by local community divers in 2017, aiming to emphasise the importance of Singapore's marine reefs and biodiversity.
Most recently, Project Reef Alert 2022, in collaboration with SMU libraries, organised a series of programmes taking the SMU community on a dive into the deep. This included a five-week photo exhibition titled Dive Deep, held from 13 February to 17 March 2023 at Li Ka Shing Library.
The photo exhibition featured stunning photographs from partner organisations TSRCP and OSR, which captured the beauty and diversity of marine life in our ocean environments. Many photos also highlighted the threats that climate change and other man-made threats such as plastic pollution pose to this beautiful world.
Plastic and other marine debris pose a huge environmental threat to ocean life globally. This debris can result from trash on beaches being washed into the ocean or being thrown in from boats or offshore facilities such as oil rigs.
At other times, litter is carried from inland via drains, canals and other waterways, out to the ocean where it can cause harm to marine life. Sea animals and birds have been photographed on social media, entangled and even strangled by the plastic rings used to hold soda cans together; while microplastics often are ingested and interfere with marine animals' digestion.
The prevalence of marine debris as an ocean pollutant inspired Project Reef Alert 2022 to put their focus on highlighting the threat it poses. Lee Kong Chian School of Business student Joseph Wong, who visited the exhibition, was shocked. "The photos showed the different types of trash found in the ocean and gave me a sense of urgency to want to raise awareness about this issue," he said.
"It also opened my eyes to Singapore's rich marine life – some of which I was unaware of – and I hope that each of us can do our part to keep our oceans clean and save these beautiful animals."
Over the course of the exhibition, articles that were specially curated by SMU Libraries were also available online, complementing the on-campus events.
A chat with the experts
The end of the exhibition was marked with a panel discussion held on 17 March 2023, highlighting what each of us can do to save our environment. On the panel was Dr Simon Oliver from TSRCP and Sam Shu Qin from OSR. The third panellist, Martha Atienza from GOODLand, was unfortunately unable to attend.
The panel opened with a discussion on the progress of marine-life conservation in the SEA region, during which both experts acknowledged the increase in public awareness, and talked about the introduction of laws, such as the United Nations High Seas Treaty, which can help partner nations enforce marine life conservation.
However marine conservation remains a challenge. "There is a saying that 'conservation biology doesn't work' because of the fact that it is a very polarised field," says Dr Oliver.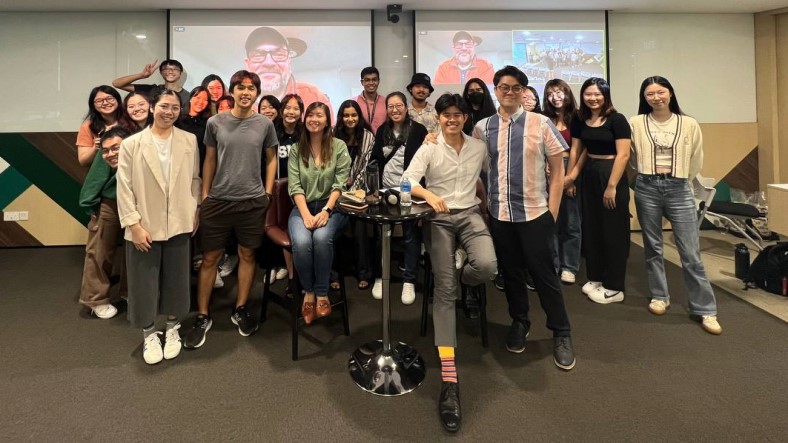 "There are so many different interest groups, each with different opinions. I think the next step would be to find a way to reconcile the differences between marine-conservation interest-groups and have these groups working towards a common goal."
Another major challenge is the simple fact that our fight against climate change can be considered a race against time.
"Coral bleaching can decimate entire reefs and prevent coral from growing," Ms Shu urges. "While we are fortunately developing technologies that can counteract such issues, these are typically small-scale experiments. Ideally, we want these to transition into larger-scale interventions, but the development is time-consuming and long-term funding is really needed. We need young blood to continue the fight for us.
"Bring your family and friends out to explore our waters. Once you see (our reefs), you will feel like protecting them."