Among the many events and initiatives organised by SMU in celebration of International Women's Day (IWD) in March 2023 was a panel dialogue themed 'SMU Women at the Forefront of Sustainability'. The panel consisted of leading SMU alumnae who have each played important roles in driving sustainability efforts in their respective fields.
Held at the Li Ka Shing Library at SMU, the session was moderated by Professor Wang Heli, Dean of the College of Graduate Research Studies (pictured above, far left). On the panel were SMU alumnae (from left to right): Jane Gan (BSc Econ 2006, MCM 2020), Associate Director of ESG Advisory, Corporate Citizenship; Genevieve Joan Soh (BBM 2012), Head of Platforms and Ecosystems, Climate Impact X; Ho Shyn Yee (BBM 2004), Managing Director of Data and Software Solutions, PropertyGuru Group; and Wu Sining (Bsc Econ 2018), Head of ESG Advisory, APAC, FiscalNote ESG Solutions.
Celebrating the contributions of women
Professor Lim Sun Sun, Vice President of Partnerships and Engagement at SMU, delivered the opening remarks for the session. In her speech, Professor Lim spoke about the importance of IWD as a reminder to recognise the contributions of women in various fields, while expressing her hopes that more people would learn to acknowledge the contributions of women without needing a specific day to do so.
"With regard to today's event, I am delighted that we are recognising what a potent force women are in critical issues such as sustainability," Professor Lim said, thanking SMU libraries and the SMU office of Alumni Relations for jointly organising the event.
Finding success amidst systemic challenges faced by women
Launching into the panel proper, Professor Wang referenced some research studies which suggest that female leaders are more likely to prioritise sustainability efforts, and that gender diversity in senior management positions often show more effective Corporate Social Responsibility initiatives, and subsequently, better organisational outcomes.
Women might even dominate the sustainability space, as Ms Gan shared from her personal experience, with anecdotal evidence from her colleagues, peers, and clients. Despite this, the challenges that women working in sustainability face are not unlike the same challenges they have to address in other professions, such as gender pay gaps and unconscious bias.
"At the lower levels, maybe it has become more equal, but as you rise up to leadership levels, you start to see that pay gap widening. You start to see the percentage of women as leaders decreasing," she shares.
Echoing the sentiment, Ms Ho added her perspective working in the very male-dominated fields of real-estate, technology and data. Offering some advice on things that have made a difference in her career path, Ms Ho said, "I've tried to identify my self-limiting beliefs and proactively work on them, as well as tried to find opportunities and environments that are more conducive, whether they are allies or advocates or peers, who are willing to support me on that journey."
Sharing ideas on encouraging sustainable practices
Addressing a question from the audience about how to convince senior management to look at the long term goals of sustainability despite the looming economic recession, Ms Wu raised the point that most businesses would wish to be successful even in the long-term. "How long do you see your brand, your company staying in business and becoming an industry level? I think most business owners have a certain level of ambition," she believes, moving on to add that most businesses will be aligned to the goals of improving business reputation as well as diversifying products or services to increase product value.
Expanding on this mindset, Ms Soh later gave as an example the European Union's (EU) cross border adjustment tax. "If you manufacture in a high emissions environment and intend to ship into the EU, they're already mooting what that would cost you. Wherever your business is based in, if your carbon footprint is more than what they require, you pay that in carbon taxes when you ship it in," she stated, bringing home the point that there are concrete consequences that can be the deciding factor in encouraging businesses to adopt more sustainable practices.
International Women's Day is an invaluable opportunity to reflect on the diverse contributions women have made and are continuing to make in the sphere of sustainability. By redefining traditional notions of sustainability, female leaders have helped shape a new focus on our long-term relationship with the planet. Hopefully, this celebration will not just be one day out of the year but, rather, serve as an ongoing reminder to continue prioritising the essential role women play in mitigating environmental damage.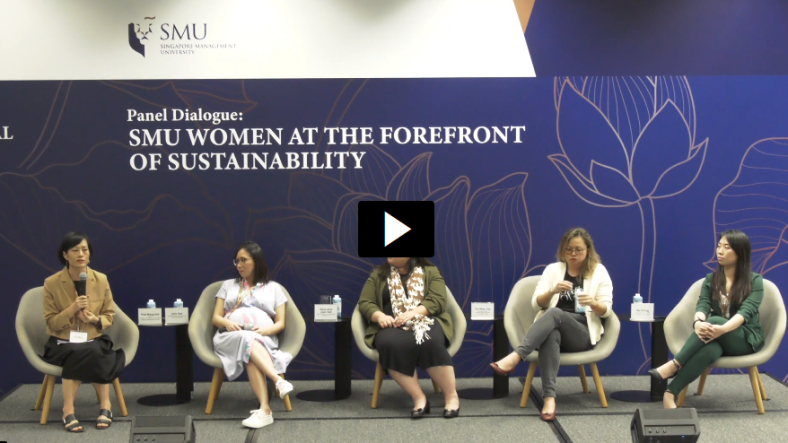 SMU celebrates International Women's Day
Among the many events and initiatives organised by SMU to mark International Women's Day was a discussion on "Women in Leadership: Lessons from Finance, Technology, and Higher Education" co-organised by SMU, BlackRock, and Singapore Computer Society, with SMU President Professor Lily Kong, Mihoko Matsubara of NTT Corporation, Deborah Ho of BlackRock and Elena Okorochenko of S&P Global (Read more here). In Jakarta, SMU hosted a fireside chat on "A Journey to Career Growth, Business Success, and Wealth Development" with SMU Associate Professor of Finance Mandy Tham, CEO of INTMO and Local President of Junior Chamber International (Jakarta) Ms Shinta Melodi, and SMU Alumna Ms Vina Pabula (MWM 2017). SMU Women's Connection organised several in-person and online discussions and events throughout March, including podcasts on Spotify.