Fourth-year School of Social Sciences PhD student Sean Lee talks about his award-winning paper, challenges faced and his upcoming research.
Winning prestigious research awards is not a daily occurrence for regular folks. Some take years to win just one, and some never manage to win any in their entire lifetime. So it might seem like an achievement of a lifetime when SMU School of Social Sciences PhD student, Sean Lee, received not only one, but two awards from the Singapore Psychological Society (SPS). Moreover, it is also the first time the SPS has awarded an SOSS graduate student with this honour.
The first award that Sean received is a Student Research Award that recognises research excellence among psychology student researchers in Singapore, and is open to all academic institutions in Singapore across all domains of psychology, while the second is the inaugural Fred Long Award for Research Excellence, a national level award given to only one psychology research student. For the latter, his winning paper beat 30 other empirical research papers across all academic institutions in Singapore.
Presenting a holistic overview
Sean's award-winning paper was an empirical assessment of the relationship between interleukin-6 (IL-6), a blood-circulating protein that is responsible for inducing inflammation, in relation to the experience of depressive and anxiety symptoms. The paper is a result of Sean's multi-disciplinary approach, incorporating domain knowledge from the fields of Biomedical Science and Psychology to provide a holistic overview of the subject matter.
His multi-disciplinary approach to research is evident in his publications, which focus on the following areas: creativity and innovation, emotions and well-being, and psychometrics. While his primary training background is in industrial and organisational psychology – specifically, creativity and innovation, Sean shares that he is also equally drawn to the study of emotions and well-being, as these are two inter-related issues that many organisations face today.
"Creativity underpins the generation of ground-breaking products and services, the advancement of cutting-edge technology, and the formulation of viral marketing strategies — competitive edges that organisations require to thrive in our increasingly competitive market," says Sean.
"On the other hand, with longer work hours, burgeoning workloads and technologies that keep people constantly connected to their bosses, co-workers and clients — employees are at a greater risk of experiencing emotional distress and low subjective well-being than ever before."
It was this curiosity that led Sean to embark on his broad research programme — uncovering ways in which organisations and employers can "boost employee creativity and well-being". Backed by his prior tertiary education in Statistics, Sean explained that he also actively considers psychometrics and measurement issues in his research work, as he believes that it would help bolster the validity and usefulness of his research.
Hence, Sean's research work often features different disciplines, from various fields of psychology to fields of the hard sciences. This holistic method stems from his belief that being "interdisciplinary is the key to unlocking hidden dimensions of an issue or phenomenon at hand, which is imperative towards discovering new knowledge", which in turn will lead to the "overall achievement of science".
This is because there are limits when one only focuses on a single discipline, says Sean. The result is a unidimensional view that can prevent one from considering other important factors that could skew and affect the end result of a research endeavour.
Acquiring as much knowledge as possible is key
The Psychology graduate student admits that it was an uphill task trying to acquire as much knowledge as he could in his research process. In fact, he adds that one of his biggest challenges was in acquiring knowledge beyond his scope of expertise. When studying such different disciplines, he found himself having to step outside of his comfort zone, as everything was new and unfamiliar.
Thankfully, Sean has found collaborators from the multiple fields of study he was exploring, which lightened the load of his research work. He could then rely on this network to fact-check and ensure that his hypotheses and analyses, as well as theories and arguments were indeed accurate.
And with the immense amount of knowledge Sean has garnered in the different fields thanks to his research work, his supervisor, Lee Kong Chian Fellow, Associate Professor of Psychology (SOSS), Dr Angela Leung, has even described him as a "research broker", someone who is able to be the bridge between users and producers with his/her immense knowledge source and research evidence.
So does Sean see himself as deserving of such a title?
"I believe that research brokering requires you to possess both a firm base knowledge in a subject area of experience, as well as diverse knowledge and exposure to different fields of study. In addition, you'll need to possess sufficient levels of openness and flexibility in thinking to be able to discern critical associations among seemingly unrelated information and to integrate the information in a coherent manner."
All this, Sean has managed to achieve, as evident from his two research awards. Clearly, his paper has articulated his thoughts in an organised and logical manner. Sean adds that broad knowledge acquisition will allow you to "communicate and collaborate with others in different disciplines effectively", which, in turn, might allow you to shed light and uncover unique perspectives on the topic at hand.
Sean's next move
Despite winning two awards, Sean is not one to rest on his laurels. He has already started work on his next research study — the "potential role of self-regulation in the process of creative ideas generation".
He hypothesises that "mental self-regulation is needed to prevent oneself from being unwittingly bounded by conventional thoughts and perspectives", which in turn can curb one's ability to "creatively explore novel ways of thinking". In addition, Sean also seeks to explore the potential utility of glucose consumption and mindfulness mediation in improving our creativity and inventiveness.
On a personal front, Sean shares that he hopes to secure a full-time faculty position with the university when he graduates later this year. Till then, we will continue to keep a close watch on this bright academic star.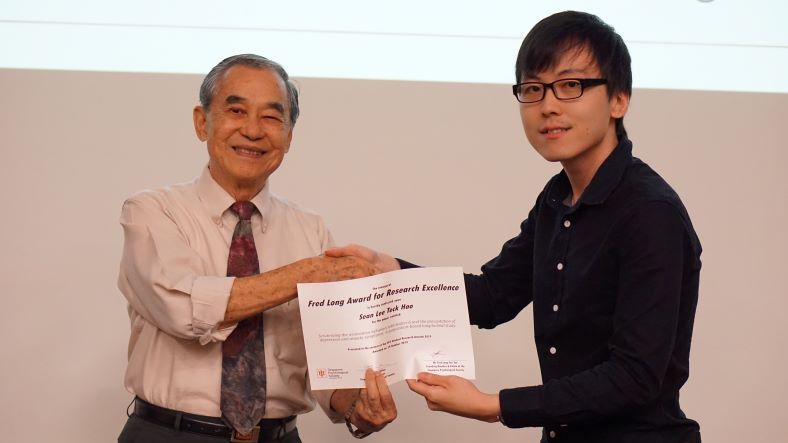 See also: SMU School of Social Sciences Psychology PhD student Sean Lee wins two research awards.