Graduation is a celebration of our students' hard work and achievements – an important period of their lives draws to a close as they stand on the cusp of the next phase of their journey through life. This is why SMU calls this a "commencement", to signpost it as the beginning of a new journey ahead.
Over five days in late July, the 3,737-strong Class of 2023 celebrated the successful completion of their education journey at SMU.
The Class of 2023 is the 20th and largest batch of graduates since the University was established in 2000, and comprises 2,292 Bachelor's degree graduates, 1,368 Master's degree and Juris Doctor degree graduates, and 77 Doctorate degree graduates. Among the Bachelor's degree graduates, 73 received double degrees. This graduating batch also includes the University's pioneer batch of graduates from the Bachelor of Science (Computer Science), the Doctor of Philosophy in Accounting, as well as the Doctor of Business Administration (Accounting and Finance).
In their time at SMU, these graduates have experienced the distinctive education that SMU is known for – a holistic approach with an interactive pedagogy that aims to develop career-ready graduates with the skills and knowledge to thrive. Many of them have overcome personal challenges, showed great resourcefulness in seeking out their passions, and endeavoured to make a difference in the world in their own ways.
Here are some of the stories from the Class of 2023, to give you a glimpse into their journeys, and the transformation that they have undergone.
Unwavering support in the face of loss
Kenneth Wong graduated with a Bachelor of Accountancy and is one of the graduates who has been awarded the Ho Kwon Ping CIRCLE Award, which recognises students who have demonstrated the University's core CIRCLE values of commitment, integrity, responsibility, collegiality, leadership and excellence. He has also won several other awards for his leadership and contribution to the community.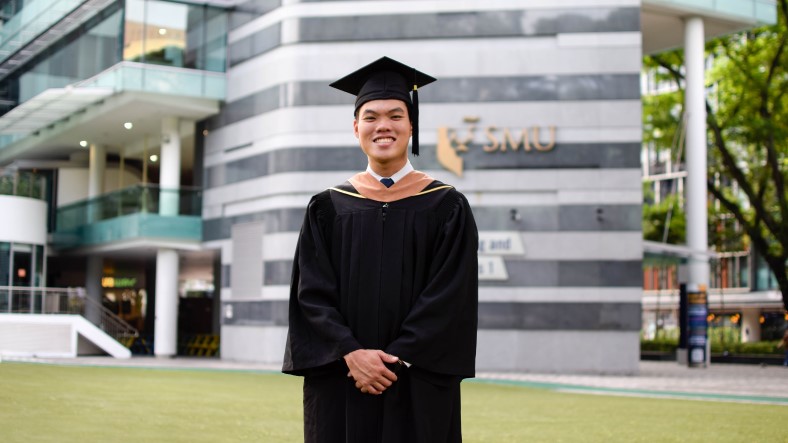 During his time at SMU, he engaged in a wide range of activities such as serving as Chapter Director (President) at Conjunct Consulting and guiding his juniors in their professional and career development at The Mentoring Circle. He also took on leadership roles at the SMU Accounting Society and SMU FIDES Catholic Society.
But his journey to get to this point was fraught with adversity. At the end of his first year in university, he received the devastating news that his mother had been diagnosed with Stage 4 breast cancer. He struggled to meet the demands of his studies even as he supported his mother for a year until her condition stabilised – only for her condition to rapidly deteriorate when Kenneth was on his exchange programme in Rome in his fourth year. Unfortunately, his mother succumbed to her cancer after a valiant two-year battle.
In the face of such profound loss, Kenneth came to value the importance of empathy, compassion and resilience. His friends, the faculty and other members of the SMU community offered solace and understanding during this difficult period, something which Kenneth says gave him the strength to continue moving forward.
 "My experience as a student at SMU was a profound testament to the resilience of the human spirit and the power of community," Kenneth says as he reflects on his time at SMU.
Adding that the SMU experience goes beyond academic outcomes inside the classroom, he continues, "Being a student at SMU was not just about academic achievements or extracurricular activities; it was a transformative experience that shaped me holistically. It taught me invaluable lessons that extend far beyond the boundaries of academia, and for that, I will forever be grateful."
Come September, Kenneth will be starting a full-time role as a Business Analyst with Delta Partners, a renowned global management-consulting firm specialising in the technology, media, and telecommunications industry.
Thriving in an environment of flexibility
For some students, one of the draws of an SMU education is the flexibility that they are given in directing their own learning journey. This was the case for Tyrina Toh, who is graduating Magna Cum Laude with double degrees – a Bachelor of Accounting and Bachelor of Business Management.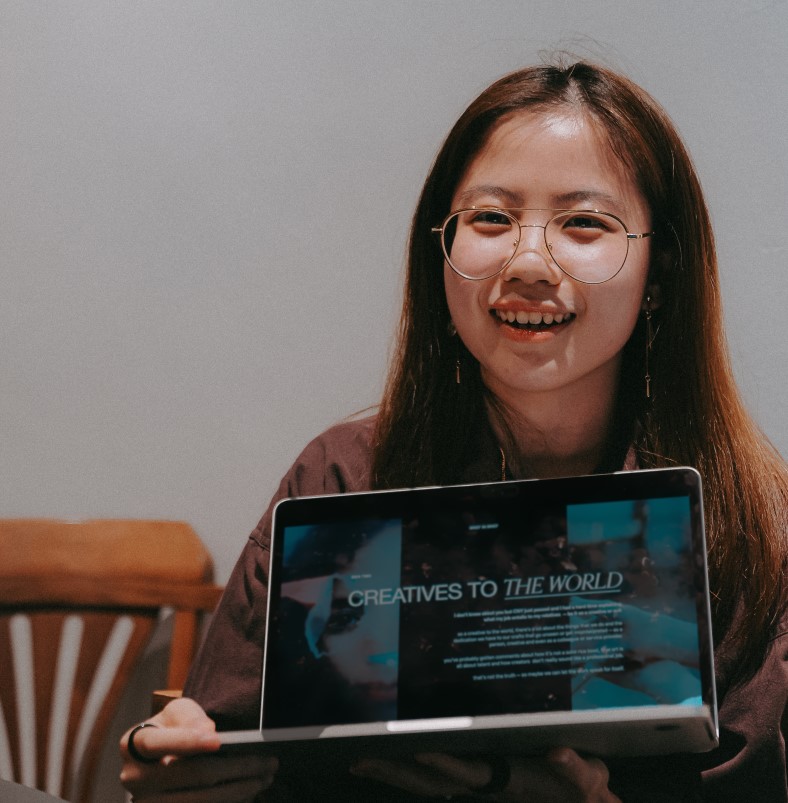 "The real draw for me was the focus on not just academic rigour, but also professional development with a unique pedagogy of class participation and [incorporation of] industry experiences into the curriculum via SMU-X modules and internship opportunities," she shares. While it felt overwhelming to plan and navigate at first, Tyrina is thankful that she took the leap of faith, because her time at SMU has shaped her into the person she is today.
Deeply passionate and driven in pursuing her interests, Tyrina participated in six internships across different disciplines during her studies, which helped her refine what she wanted to dive deep into upon graduation.
Tyrina uncovered her love for the vibrant and dynamic culture of the advertising space, and she looks forward to rekindling Tong-Gan, her personal brand that she started during SMU. She has hopes of starting her own advertising agency in future. For now, she has been working at TBWA Group Singapore as a Brand Management Executive since January 2023, where she is involved in exciting projects for Singapore Airlines.
Bringing together two vastly different disciplines
Law and medicine are two disciplines intertwined in the real world. Law students might study cases from the medical field, while medical students will often touch upon the legal considerations of certain decisions. But few who aspire to be a part of the healthcare sector would choose to pursue a Bachelor of Laws at SMU before embarking on a postgraduate Doctor of Medicine degree at Duke-NUS Medical School.
Gini Wong is one of them. She believes that her knowledge in law will help make her a better doctor for her patients in future – one who displays greater maturity, sensitivity and understanding.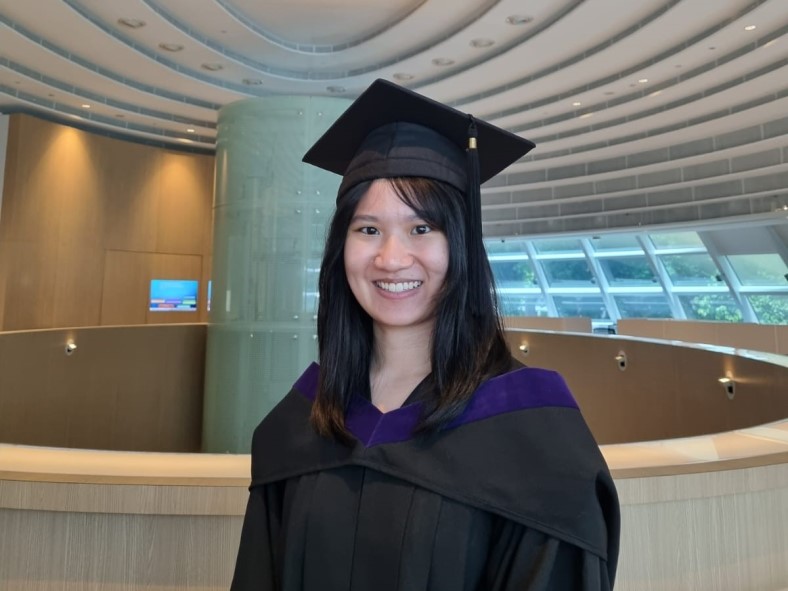 "In law school, I studied a few modules that are deeply intertwined with medicine such as medical law and tort law. These modules have allowed me to understand the applicability of law to the medical field and also gain a deeper insight into controversial legal issues in medicine."
This is complemented by her experience in various pro-bono and community-service projects with SMU such as Project Ageing, where students produced educational videos to teach the public about legal issues related to ageing.
"These encounters have inspired me deeply and showed me how intricately law and medicine interact in our daily lives."
Gini graduated Summa Cum Laude with a Bachelor of Laws degree from SMU and has started her postgraduate journey at Duke-NUS Medical School, where she hopes to continue to serve the community through her knowledge and skills.
Not every journey is smooth sailing
It can be easy to feel lost in the sea of success stories at graduation, we love tales of students who have achieved much through great passion and dedication. But every journey is fraught with its own challenges, and losing motivation on the long trail should not make a student feel any less. During such a time, having support in the form of good mentors or a strong community can make all the difference.
Graduating Summa Cum Laude this year with a Bachelor of Laws degree, Adel Zaid Hamzah had participated well in various leadership positions in his co-curricular activities at SMU's law society, The Bar and in the student publication Lexicon., Thus one might not have imagined that Adel Zaid Hamzah had experienced a speedbump during his course of study.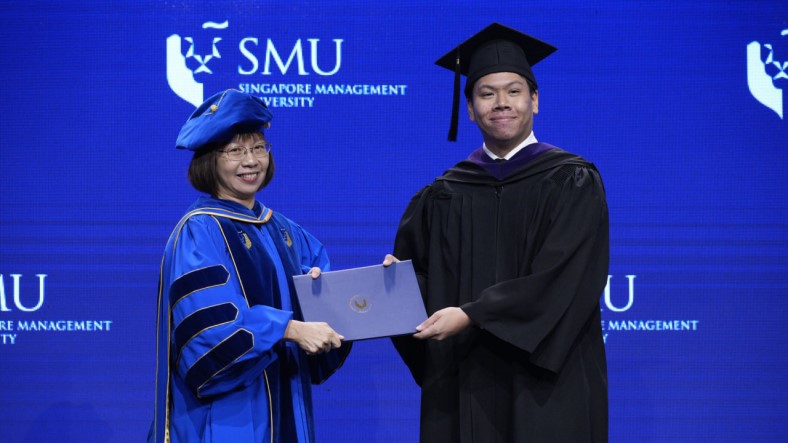 "Sometime in my second year, I lost a lot of motivation to continue with my studies. The cases became difficult to read, I lost energy during class participation and my sense of purpose reading law," he shares with great openness.
What got him through this period was the support of one of his law professors who helped revitalise his motivation and passion.
"She reminded me that holding close to my purpose is what can help me push through these hurdles, and that, ultimately, we owe a responsibility to ourselves to do the very best that we can. That advice has stayed with me ever since."
Adel has secured a training contract with CMS Holborn Asia LLC, and is eager to embark on the next stage of his journey as a legal practitioner.
A lifetime of learning amid personal challenges
Graduation does not mean the end of learning. While it closes one chapter in your life, learning is a lifetime process that never ends. SMU as a university has continually shown great commitment to lifelong learning – something that Nurulasyiqah Binte Mohammad Taha has experienced for herself during her postgraduate journey at SMU.
She had previously obtained her Bachelor of Accountancy at SMU in 2007 through a competitive drive that powers her through her struggle with muscular dystrophy.
In 2012, Nurulasyiqah became the first boccia athlete from Singapore to compete at the Paralympic games. Her journey with the sport has spanned more than 20 years since and included two paralympic events.
Her return to SMU to pursue a Master of Information Technology in Business (MITB) was sparked by the challenges of the COVID-19 pandemic. With competitions and training cancelled, Nurulasyiqah looked for other avenues to satisfy her competitive drive. Deciding to explore programming to diversify her skills sets, she started looking for a graduate programme that welcomed students without any background in computer science or information technology and found the perfect fit: SMU's MITB.
Reflecting on her time at SMU, Nurulasyiqah shares the module which she thinks was one of the key takeaways of her experience: "I particularly enjoyed the group project for the 'IoT: Technology and Applications' module. I appreciated the change to learn how to design smart systems to empower lives of persons with severe disability."
Nurulasyiqah worked with a team to design the "Support Wheelchair-user Independence Fall Tracker" (SWIFT) system to support the independent living of adult persons with muscular dystrophy such as herself. Last year, this project came in second at the Microsoft "AI for Accessibility" Hackathon.
As for her aspirations for the future, Nurulasyiqah sees herself continuing to pursue her love for boccia, as well as her newfound interest in analytics and programming. "I am designing a career that accords flexibility to explore analytics – while training for my next boccia competition."