The SMU Global Forum series made its debut in 2014 and its objective is to provide a high-level dialogue platform for SMU and our partner universities in China to share knowledge and exchange insights and experiences on societal challenges. In a landmark collaboration, SMU and The Chinese University of Hong Kong (CUHK) recently hosted a global forum under the theme "A Whole New World with Computational Social Science: Transdisciplinary Insights." The event aimed to shed light upon the emerging field of CSS and explore its potential to redefine research paradigms and address pressing societal challenges. 
It was the first time that the forum had been held in Hong Kong and this year also involved a speaker from a third Asian university – Yonsei University, a valued partner of both SMU and CUHK. The hybrid Global Forum was attended by close to 400 participants and attracted strong media interest from Asia to America.
A merging of disciplines and meeting of minds
Computational Social Science (CSS) is an interdisciplinary field that merges social-science research with computational methods and techniques. CSS provides insights into human behaviour and societal phenomena. By harnessing big-data analytics, machine learning, and complex modelling, researchers can analyse extensive amounts of social data and unveil patterns, trends, and relationships that were previously inaccessible.
Gathering experts from diverse disciplines to engage in insightful discussions, the forum shed light on the opportunities and challenges presented by the global digital transformation and the power of CSS to revolutionise our understanding of human behaviour and interactions.
The vision for interdisciplinary research and collaboration
During his welcome address, CUHK President Professor Rocky Tuan emphasised the challenges that have accompanied the opportunities brought about by digital transformation. Flawed information generated by incorrect algorithms; job insecurity; and ethical concerns surrounding intellectual property and data privacy are some of the pressing issues that need to be addressed. Prof Tuan welcomed the gathering of experts from various fields, urging them to share their insights and engage in meaningful discussions within the context of Computational Social Science.
Professor Lily Kong, President of SMU, highlighted the University's commitment to addressing societal challenges through interdisciplinary and impactful research. She stressed the importance of collaboration with diverse stakeholders in Singapore and the region, emphasising the Global Forum as a platform for high-level dialogue among academia, policymakers, and the business community.

"Computational social science can revolutionise the way we understand human behaviours and interactions," says Prof Kong.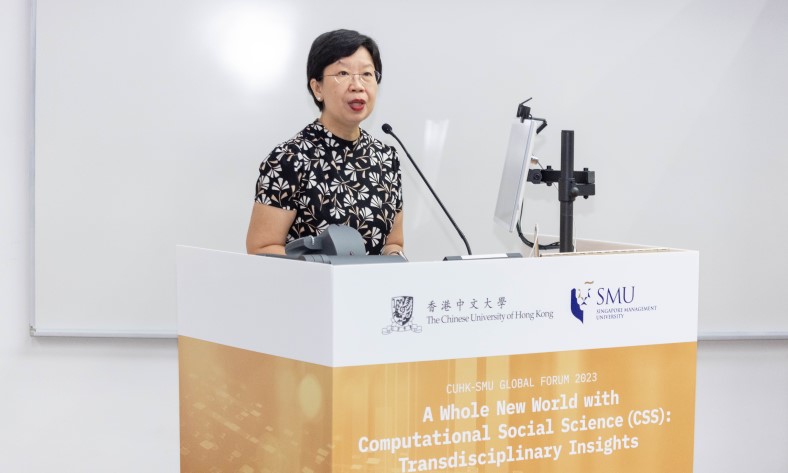 "Big data and machine learning, for instance, enable sophisticated detection and analysis of social behaviour and public opinion, providing a launchpad for innovation and change."
Prof Kong envisions SMU as a catalyst for positive change, driving interdisciplinary insights and collaborations that bridge the gap between theory and practice. She acknowledged that SMU's dedication to addressing societal challenges is rooted in its core vision. Through the Global Forum, SMU is showcasing its leadership in the field, aiming to foster engagement and collaboration with academia, policymakers, and the business community.
The role of CSS in tackling global trends
Mr Ong Siew Gay, Consul-General of Singapore in Hong Kong, delivered the opening address emphasising the forum's significance in facilitating the exchange of knowledge, insights, and perspectives between Singapore and China. Mr Ong noted the potential of CSS to offer urban solutions, especially considering the complex social and global trends brought about by the COVID-19 pandemic. By providing an interdisciplinary perspective, analysing big data, and leveraging technology, CSS can play a vital role in understanding and addressing these challenges.
Exploring CSS through expert panel discussions
The forum featured two thought-provoking panel discussions that delved deeply into Computational Social Science. The morning session, titled "Evidence-based CSS: Insights from Academia," brought together esteemed experts such as Professor David Chan from SMU, Assistant Professor Jeroen van Ameijde from CUHK, and Professor Jeong-han Kang from Yonsei University. They stressed the importance of breaking down professional barriers and embracing the strengths and limitations of various disciplines to tackle complex problems effectively.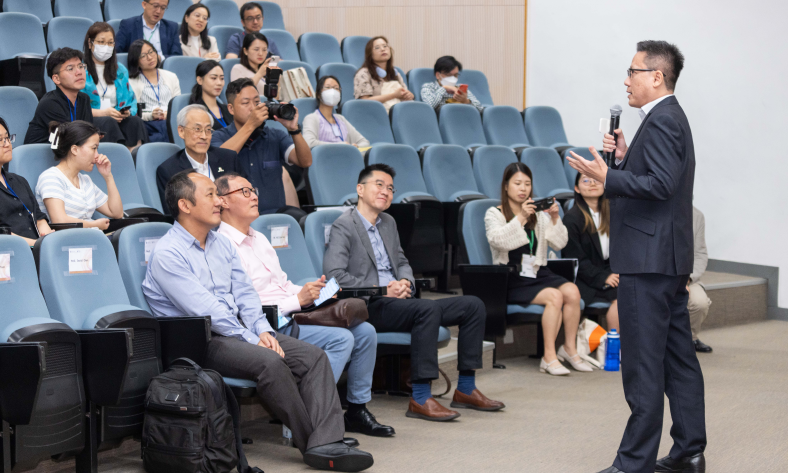 In the afternoon session, "A New World Enabled by Computational Social Science: Insights from Policymakers and Practitioners," Dr David Hanson, CEO of Hanson Robotics, Professor Lisa Wan from CUHK, and Dr Zhen Luo, Founder and CEO of ParityBit, shared their valuable perspectives. This session explored how technologies such as artificial general intelligence (AGI) can influence people's lives and transform the study of social science. The experts also underscored the need for interdisciplinary research in emerging areas such as intellectual property and blockchain, to keep pace with the evolving landscape of generative AI.
The path forward
In a post-event interview, SMU Associate Professor of Computer Science Zhu Feida, who moderated the second panel-session, highlighted the importance of ongoing interdisciplinary research in the realm of Computational Social Science. He emphasised the need to explore the implications of technologies like AGI, of which ChatGPT can be seen as an early form, on society and the study of social science. Prof Zhu also called for further research in areas like intellectual property and blockchain, aligning with the emerging trends in generative AI.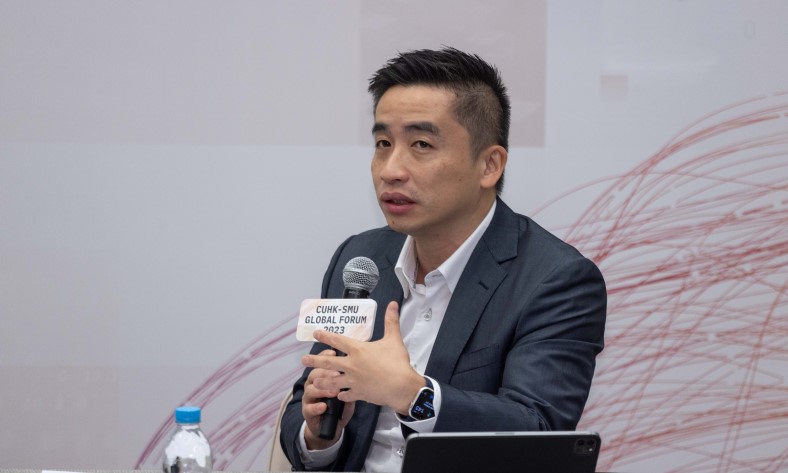 The insights shared at the CUHK-SMU Global Forum 2023 demonstrate SMU's prominent position in the Computational Social Science space and its commitment to building an engaged city university through interdisciplinary collaboration. By fostering dialogue and collaboration, SMU aims to create a platform for meaningful discussions that result in actionable solutions to society's most pressing challenges. The forum not only provided a glimpse into the intellect driving Singapore's Smart Nation Initiative but also instilled optimism and confidence in the future development of the nation.