The stats on plastic waste is nothing short of staggering: In Singapore alone, about 900 million kilogrammes of plastic waste is discarded every year, with just four per cent of it recycled.
To tackle this growing plastic waste crisis, SMU Bachelor of Business Management (BBM) student Oh Chu Xian founded Magorium in 2019. The company specialises in a sustainable technology that breaks down shopping bags, bottles and other plastic trash into a material that partially replaces bitumen used to build regular roads.0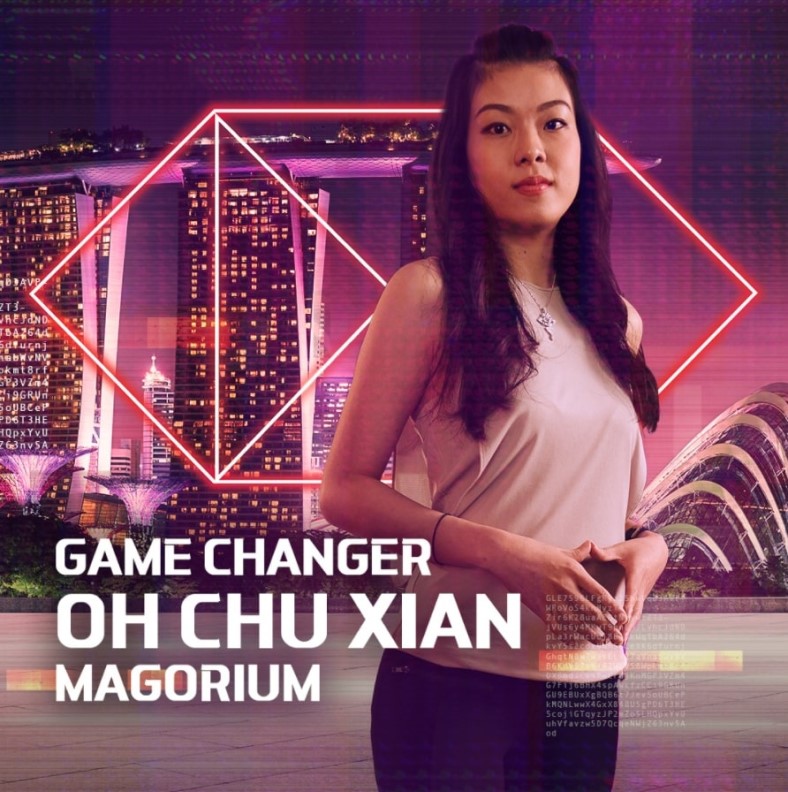 Another SMU alumna Anna Lam, is also a champion of the crusade against plastic waste with her edible cutlery start-up Crunch Cutlery. The Bachelor of Laws graduate is a cooking enthusiast who first decided to create her own edible cutlery during the 2020 "circuit breaker". Both women were recently announced as winners of the HSBC Swing for the Game Changers 2021 competition, which recognises women-founded Singapore start-ups with a sustainable mission.
While awareness surrounding the problem of mounting plastic waste has grown over the years, Magorium aims to provide a two-fold solution: Besides turning contaminated, unwanted plastic into a new material, the company also addresses the exponential rate and immense volume of natural resources consumed for infrastructure construction. Road construction, in particular, involves a high level of fossil fuel consumption as bitumen — the tar-like binding agent used in laying roads — is derived from crude oil, and emits potentially toxic airborne particles, fumes and gases when heated for use.
When asked how the idea for Magorium came about, Chu Xian explains she was inspired by her father and grandfather, who have been in the road construction business for 45 years. Growing up, she spent weekends and holidays at construction sites and the family's asphalt factory, and even travelled to Malaysia to visit quarries for raw materials.
"What is even more alarming is that environmental impact of construction, such as natural resource consumption or carbon emissions, hasn't been given the attention it deserves," says Chu Xian.
"My journey is more than just solving the plastic waste problem, it originated from the road construction industry; the desire to source greener sustainable materials as an alternative to building roads."
The Magorium technology recycles plastic on a molecular level with no danger of microplastics leeching into environment. Currently, Chu Xian aims to increase the plastic recycling rate from the current four per cent to a lofty 40 per cent. Such laudable ambitions, coupled with the unique value proposition of her start-up, has also earned her a coveted spot on the 2021 Forbes 30 Under 30 – Asia – Industry, Manufacturing and Energy list.
As much as Chu Xian is making waves on greening the construction and infrastructure industry, Anna, on the other hand, is providing a sustainable solution for everyday consumers and F&B businesses. The former research consultant and business analyst was first introduced to her business idea when she chanced upon an Indian brand with a similar concept, and noticed the amount of single-use packaging and cutlery used for take-outs and delivery food orders during the pandemic.
"My journey into a more sustainable lifestyle was a slow one coming, which was accelerated by the unprecedented scale of Covid-19," says Anna. "It made me more aware of my personal contribution to single-use plastic waste as well as the root cause of people failing to continue to be more sustainable – inconvenience and a need for a fast and simple solution."
She began experimenting with recipes for hardtack, a type of firm biscuit that was once consumed by American Civil War soldiers and British sailors due to its long shelf life. The dough is moulded into a shape of a spoon during baking, and Anna has since launched six flavours of the product including strawberry and blue pea lychee. Since April 2020, she has been innovating and improving her product range, with the aim of convincing eateries and diners to switch from disposable utensils to her tasty and sustainable cutlery. Following a four-month incubation programme at BIG (Business Innovations Generator), spearheaded by the SMU Institute of Innovation and Entrepreneurship (IIE) for entrepreneurs and start-ups, she decided to take the plunge and work on Crunch Cutlery fulltime.
For Chu Xian, the entrepreneurship journey was made all the more challenging by the fact that she started the company during the final year of her degree programme. She admits that running a start-up while being a full-time undergrad was not ideal, but believed that the timing was ripe for launching, given the increasing support from public and private sectors in the green space.
"Over the years, we have all seen sustainable and green innovations come and go," observes Chu Xian. "In contrast, given the rate of climate change and eco-movements today, I believe green innovation is here to stay permanently."
We are already witnessing dramatic shifts in our society and feeling the consequences of climate change at an incremental rate. But with the likes of Anna and Chu Xian leading the vanguard for green entrepreneurship in Singapore, it is evident that finding solutions to environmental problems while generating sustainable revenue need not be mutually exclusive endeavours.