Beyond infiltrating the business lexicon, the notion of sustainability is becoming a part of business strategy. After all, all signs are pointing towards a focus on sustainability in businesses: from government-led initiatives to create infrastructure that addresses the problems of climate change, to growing consumer demand for sustainable brands. It is becoming more important for organisations to embrace and promote sustainability on environmental, social and economic fronts as a long-term business game plan.
Business schools as drivers of sustainability
The first step in nurturing a sustainability mindset could well be provided by institutions of higher education. Business schools are critical in grooming future managers and leaders to be ready and prepared to buy into sustainability as both a mindset and strategy. And SMU is leading the way with DBS Bank, having launched the DBS-SMU Sustainability Initiative on 12 February to develop talent and support sustainability development efforts for long-term impact on SMU, the community, and Singapore as a whole. DBS plans to commit more than S$1 million to this initiative, which comprises of fellowships, scholarships, an annual business study mission and a talent enterprise development programme.
In addition, the SMU Lee Kong Chian School of Business (LKCSB) is also rolling out a second major in Sustainability from Academic Year 2019-2020, in a move to arm students with theories, frameworks and tools to address sustainability challenges in businesses. This new second major, which can be taken by SMU undergraduates across all disciplines, will nurture graduates to be specialists in sustainability, who will be well-versed in the issues and business practices related to sustainability.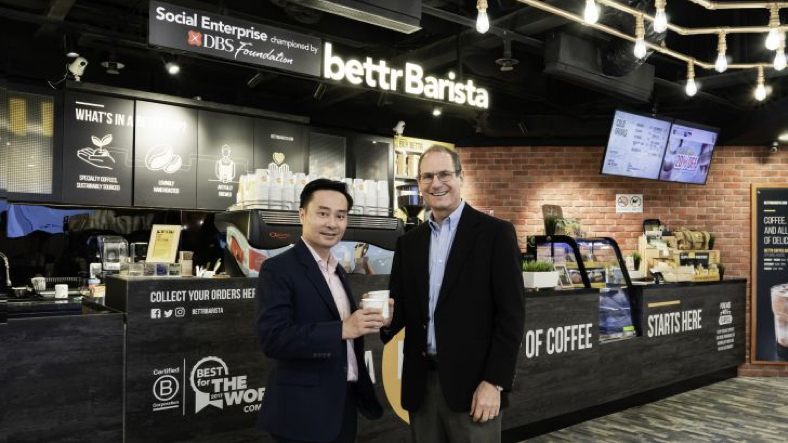 SMU Vice Provost (Research) Professor Steven Miller and DBS Singapore Country Head Shee Tse Koon met at DBS-supported social enterprise Bettr Barista to discuss the details of the multi-faceted DBS-SMU Sustainability Initiative.
A first of its kind in Singapore, the curriculum covers the broad issues within the sustainability sphere and what businesses can do to reduce their negative impact on communities and the environment. It will also address sustainability in business sub-disciplines, like finance, operations, marketing and entrepreneurship. Students will also have the opportunity to take up a real-world sustainability project with an organisation under the SMU-X framework. Under the DBS-SMU Sustainability Initiative, two DBS Sustainability Scholarships will be offered annually to outstanding undergraduates who have declared Sustainability as their second Major.
The different components of the Initiative are designed to be diverse enough to equip students to be future-ready. For instance, they will have the opportunity to embark on a Business Study Mission as a mode of experiential learning, and apply their skills on organisational improvement projects in up to 10 social enterprises which DBS Foundation supports under the Talent Enterprise Development programme.
Sustainability and business: a top priority
In an evolving, more mindful consumer landscape, sustainability and business are now inextricably linked. There is a growing importance for businesses to focus on sustainability with shifting public opinion, as emphasised by Singapore Finance Minister Mr Heng Swee Keat. "Increasingly, there are investor and consumer expectations of sustainable business practices. These are positive trends for the environment and economy," said Mr Heng, speaking at the 5th Singapore Sustainability Symposium. Indeed, a YouGov study conducted in 2018 found that 56 per cent of Singapore consumers believed that organisations should ensure that their supply chains are not harmful for the environment.
Pursuing sustainability in a business strategy might also yield tangible gains for organisations, for both the top- and bottom-lines. An astonishing 66 per cent of consumers globally, and 73 per cent of those in the millennial age group, are willing to fork out more for sustainable brands and products, according to Nielsen in 2015. The impact of sustainable business practices on purchase behaviour was further illustrated by a 2017 study from FMCG giant Unilever, where one-third of 20,000 shoppers indicated that they would prefer buying from brands with positive social or environmental impact. A deep understanding of the changing consumer landscape, and need for transparency and accountability in business, is required for today's businesses to engage with a new generation, and thrive.
Through its partnership with DBS, SMU hopes to nurture students to become not just competent contributors to the workforce, but socially-conscious future leaders of society. As Professor Gerard George, Dean of SMU LKCSB, explained, "The multi-pronged efforts under the DBS-SMU Sustainability Initiative will help nurture SMU students to meet the needs of the job market, foster research excellence and build intellectual capacity among our faculty, as well as raise the general awareness of sustainability issues."