It's no secret the world we live in is caught up in a maelstrom of change. To manage this rise of emerging trends and disruptions — in society, the economy and the environment — institutions of higher education can no longer remain insular bastions of age-old knowledge. Instead, universities of today have multiple roles to play, said Professor Lily Kong at her inaugural address on 12 February, as the newly appointed President of SMU.
In the current global environment, mega trends like the rise of Asia, changes in demographics and the global economy, as well as rapid technological advancements have transformed the landscape of business and society at large. Institutions need to find new ways to adapt to this rapidly changing outlook.
As such, SMU's new roles include preparing the workforce to be future-ready, serving as key drivers of innovation and national competitiveness through research, and helping to nurture better citizens and more resilient societies.
With this in mind, Prof Kong said, "SMU seeks to influence and shape the next generation of leaders and entrepreneurs, while contributing, through research and knowledge production, to make meaningful impact on economy, society and polity."
She later went on to explain how the University hopes to groom such future-ready graduates to enter the workforce, by delivering a "holistic and transformative education" as well as address "societal challenges through research".
In order to execute this vision, Professor Kong has put into place a plan called the "4 'I's strategy", which emphasises 'integration', 'industry', 'innovation', and 'internationalisation'.
SMU President Professor Lily Kong's Inaugural Address 2019
'Integration' will take place across multiple dimensions, including curriculum and co-curricular activities for undergraduates, pre-employment training and continuing education and training to promote life-long learning, across SMU Schools, as well as research centres, institutes and labs to promote multi-disciplinary research and programmes.
"We will ride on the momentum of our successful inter-disciplinary programmes launched in recent years, and develop still others, in response to changing needs in the workplace," she said.
For example, SMU will explore the option of allowing a very select group of students to declare 'missions' instead of traditional majors, so they can pursue their own integrated majors under the guidance and advice of SMU faculty.
In the realm of research, five areas of societal challenges have been identified as focus areas for meaningful and impactful inter- and multi-disciplinary research. They are "interpreting economies and financial markets", "strengthening social fabric and quality of life", "navigating boundaries and borders", "managing for sustainability", and "advancing innovation and technology".
As for the second strategy, 'industry', SMU intends to work more closely with industry partners whether from the private, public or NGO sectors though education, research and outreach. How these partnerships are established can be varied and bespoke, for example by housing some companies on SMU's campus.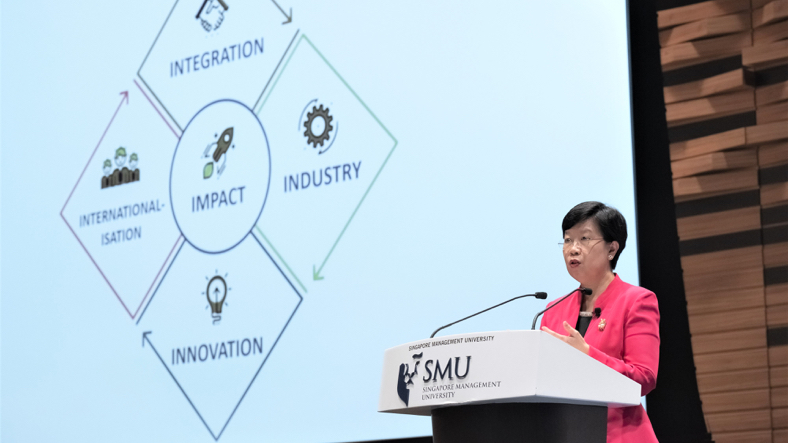 Prof Kong outlined her 4Is strategy for SMU to make meaningful impact.
"As Singapore's only 'university in the city', we must endeavour to have a reverberating voice in the community, to contribute thought leadership and ideas, as well as to be a place in the city where compelling and relevant ideas are being discussed and debated," said Professor Kong.
One outreach platform that will be launched down the road is the SMU City Dialogues, which aims to start a conversation with the community on pertinent topics such as reducing inequality and remaking the economy.
Efforts will also be made to implement the 'innovation' strategy through the cultivating of entrepreneurship talent, by increasing support for venture-backed start-ups and scaling up the Global Innovation Immersion Programme.
An 'Innovation Bridge' is also being built as part of the Tahir Foundation Connexion facility, featuring 500 sqm of incubation space for start-ups, as well as a space for SMU students and alumni to rub shoulders with thought leaders and members of the community. The aim is "to increase SMU's 'innovation density' by positioning our city campus as a meeting point to connect like-minded people with different talents and ideas," explained Professor Kong.
Finally, 'internationalisation' will see enriched global education opportunities for existing and future SMU students as more academic and research partnerships are forged. One highlight is the establishment of Global Centres in selected ASEAN cities like Bangkok, Manila, Ho Chi Minh City and Jakarta, as a physical presence to strengthen ties and coordinate activities with institutions and corporations located in those cities.
Ultimately, through the "4 'I's strategy", Professor Kong hopes that SMU will pave the way for universities in the future and produce future-ready graduates who will "make meaningful impact towards a better world".
Watch or read SMU President Professor Lily Kong's Inaugural Address.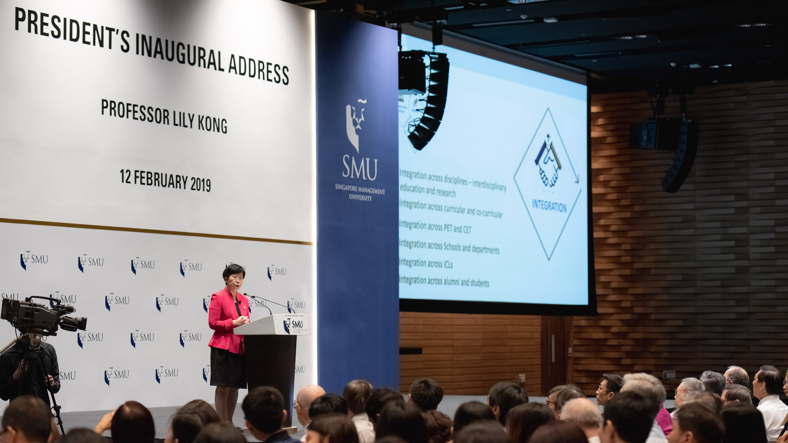 A 500-strong audience, comprising SMU faculty, staff, student leaders and alumni attended the address on 12 February 2019.