As we look to the future, Canada and Asia's relationship has never been more important. With a world of vast potential, there is an unprecedented opportunity for nations to take meaningful steps towards unlocking that potential and catalysing new growth in education, business exchange and mutual understanding.
The inaugural Canada-in-Asia Conference, held at Fairmont Singapore in February 2023, was a milestone in fostering greater engagement and strengthening networks between two coexisting entities. The momentous occasion gathered esteemed speakers such as SMU President Professor Lily Kong and Canada's Minister of International Trade, Export Promotion, Small Business and Economic Development, Mary Ng. Additionally, Singapore's Minister in the Prime Minister's Office and Second Minister for Education and Foreign Affairs, Dr Maliki Osman also graced the opening plenary.
It was an insightful day of dialogue, as Prof Kong explored how universities can maximise their potential in line with the evolution of technological advancements and globalised society. To unlock the full capacity of applied research and scientific innovation, Prof Kong posited during her keynote speech that global education initiatives should be pursued.
"Universities have a fundamental role to develop talent and generate impactful research for economic development and innovation," said Prof Kong.
"This can be better achieved if we harness complementarities through collaborations.
Through international partnerships between universities, such as student exchange programmes and collaborative research projects, cutting-edge solutions and strategies can be implemented across geographic borders. This is how academic institutions can begin to fully leverage their trove of resources while utilising their role to develop talent and generate breakthroughs in research.
Crossing borders to drive greater impact
Higher education is taking place in an increasingly interconnected world; with institutions of learning from all around the globe having to navigate through an unpredictable future. By recognising and valuing the potential of collaborative networks, countless opportunities can arise for multiple stakeholders to benefit in unprecedented ways.
"University partnerships, whether bilateral or multilateral, take various forms," Prof Kong explained. 
"Student and staff exchange, collaborative research projects, reciprocal summer or winter programmes, joint and double degrees … these are commonplace by now. At SMU, we are delighted to be working with a number of Canadian universities in these myriad ways, and look to build still further."
Far beyond traditional educational paths, there are myriad possibilities for students, faculty, and administration to charge forward towards positive impact. Harnessing the power of collaborative global education teams will unquestionably generate greater agility, thereby driving holistic, sustained improvements.
Moreover, universities have a long history of engaging with other organisations and stakeholders to create an ecosystem capable of tackling complex global issues. Such collaboration is a vital component in developing multidisciplinary solutions that span international borders. In this way, universities and their partners can bring together a diverse range of perspectives and achieve progress towards game-changing initiatives.
"What is interesting and potentially still more impactful are different and innovative ways in which universities can work with one another, and with public, private and people sector organisations across geographies," added Prof Kong.
The Reach Alliance – a network of global universities to collaborate on research and develop interdisciplinary solutions — is a pioneering endeavour that seeks to broaden student and research opportunities. It represents an innovative model of collaboration between SMU and other leading learning institutions, offering students the chance to actively engage in their own learning experiences, as well as driving meaningful change in societies less fortunate.
With faculty mentorship providing guidance and direction, the initiative spurs the betterment of commodities and services for those who are hardest to reach. In addition to being immersed in these life-changing projects, SMU students look forward to collaborating with peers from top universities around the globe – from University of Toronto and University of Oxford to Ashesi University and University College London.
"I hope these examples illustrate how partnerships and networks between universities, and between town and gown, can innovate beyond the tried and tested models," said Prof Kong.
"New ideas and relationships have the potential to amplify impact, accelerate change, and make a positive difference to a world wrought with complexities and challenges."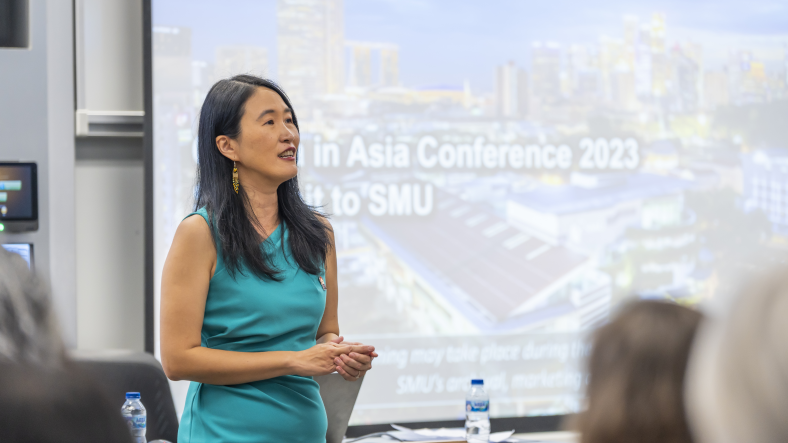 See also: SMU strengthens its networks at the inaugural Canada-in-Asia Conference 2023