With emerging demographic trends such as an ageing population, the increased velocity of change in business and the resulting need to upgrade one's skills and qualifications, lifelong learning has emerged as a priority for individuals and corporations alike.
The trend of frequent career changes over a lifetime makes continuing education a necessity, according to a 2015 study by the National Student Clearinghouse Research Centre.
However, this demand for upskilling is not always matched by the right opportunities to do so. Working adults looking to expand their skillsets are often faced with the challenge of balancing work, family, leisure and other commitments – with the notion of giving up a full-time job to go back to school being nothing more than an unrealistic dream.
The advent of technological innovations, however, has ushered in a new era of flexible learning. Through state-of-the-art e-learning tools and collaborative online platforms, today's students are able to design a fulfilling learning experience that seamlessly integrates with their own life stage.
And SMU leads the pack as a key proponent of lifelong learning, with the launch of a new programme that provides the opportunity for busy professionals to attain a postgraduate management qualification, while continuing to work full-time.
From July 2020, the LKCSB Master of Science in Management (MiM) will be offered on a blended learning basis. It has been designed to maximise the best of digital technology with the ability to interact with an international cohort and faculty and provide exclusive networking opportunities – opening the doors to those who otherwise may not have had time to pursue a postgraduate education.
Is online learning truly the future of education?
Blended learning combines traditional face-to-face learning and online learning, the latter of which involves a teaching and learning model that allows lecturers, students and content to be in different locations. This allows students to take charge of their educational journey, and learn in an interactive and collaborative environment, and at their own pace and in their own time. In fact, a 2012 survey by Babson/College Board revealed that 77 per cent of academic leaders believed online education was equal to or superior to learning in a physical classroom.
However, if an entire programme is delivered online, students would potentially miss out on other experiential benefits – particularly those associated with face-to-face interaction. In fact, some studies – such as a 2019 paper by Spiros Protopsaltis, an Associate Professor and Director of the Center for Education Policy and Evaluation at George Mason University's College of Education and Human Development – have shown weaker outcomes in completion rates for courses conducted entirely online.
The SMU difference
Blended learning is not just about posting recorded lectures online for students to view on their own time, but a holistic, learner-centred approach that upholds collaborative interactions – both online and "in real life" – to encourage active learning.
The blended MiM is a dynamic 18-month programme that paves the way for flexible learning, combining face-to-face teaching, learning and networking activities – based in SMU's world-class campus, located in Singapore's city centre – and online engagement with faculty and peers for the remainder of the programme.
Various studies evaluating blended learning programmes point to the importance of an intuitive, user-friendly, interactive online learning environment in generating positive outcomes. The blended MiM uses the Insendi, a learning experience platform. It goes beyond providing simply online lecture notes and presentations, and has been custom built by MiM faculty to optimise teacher-learner interactions, community development, learner feedback, group work and assessment.
Physical interactions are also pivotal in building social skills, whereby faculty trained in blended learning may engage with students, encourage participation during seminars, and stimulate discourse on case studies and the resulting thoughts and ideas raised by students. Such face-to-face interactions will also translate into priceless networking opportunities and the ability to persuasively articulate one's point of view and collaborate with business stakeholders and colleagues in a global workplace.
This hybrid ecosystem allows for more personalised instruction, leveraging on SMU's holistic pedagogy to improve the way we consume and apply new knowledge. Breaking down the walls of traditional business education, blended learning programmes like the MiM now empower busy executives to customise their learning experience, at every step of their career trajectory.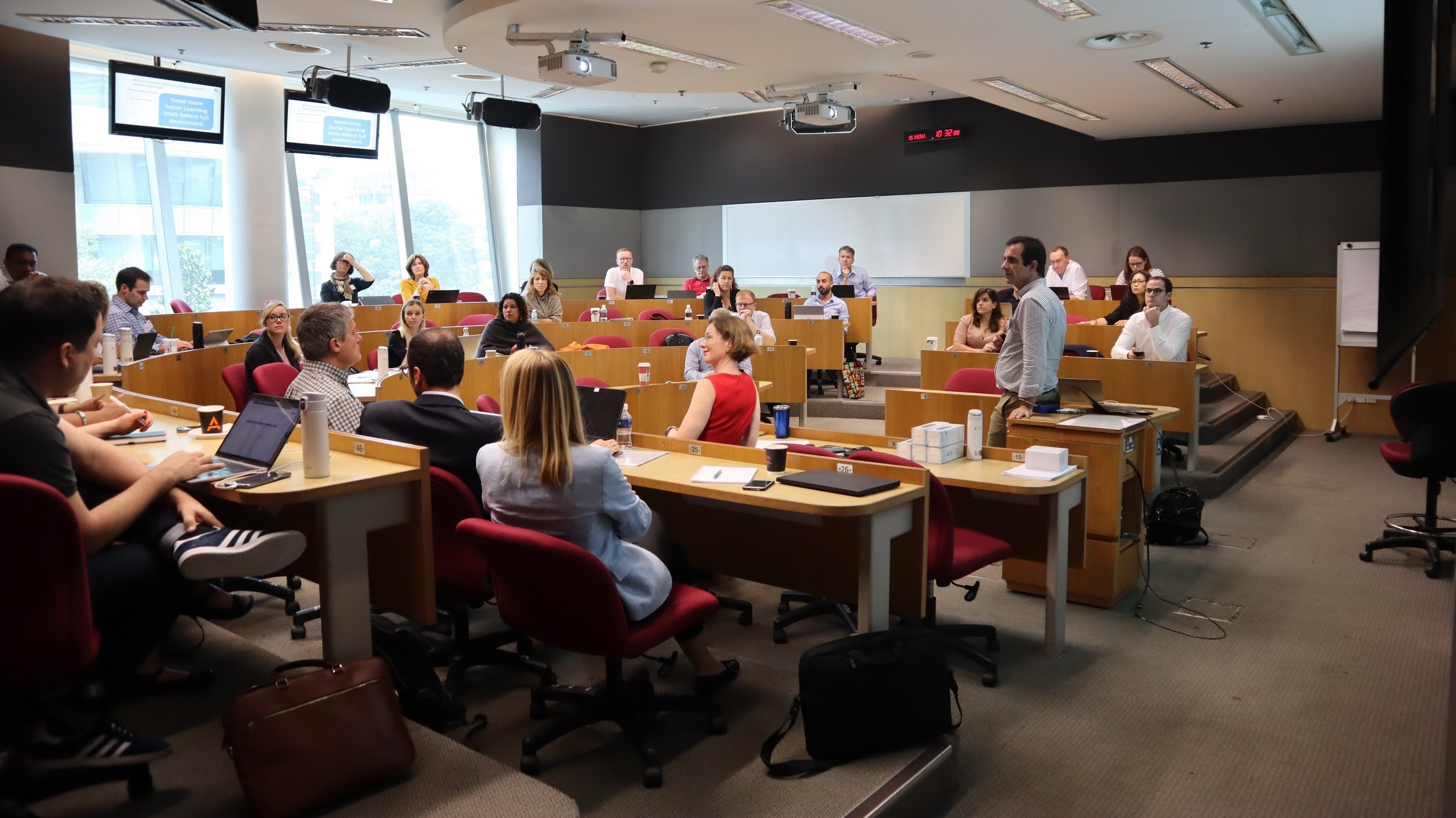 See also:
SMU Launches Blended Master's in Management Programme.