In a bid to create a future-ready Singapore, SMU and Alibaba Cloud have joined forces to launch a series of courses to upskill Singaporeans and get us Smart Nation ready.
The SMU-Alibaba series is aimed at empowering Small and Medium Enterprises (SMEs) to equip staff with the know-how and capabilities to navigate today's increasing technological disruptions and changing consumer behaviours. The courses will focus on enhancing participants' knowledge of emerging technologies from Cloud Computing to Data Analysis.
Here are five highlights about this landmark partnership:
#1 What is Alibaba Cloud?
For the uninitiated, Alibaba Cloud — also known as Aliyun, is the cloud computing company under Chinese business magnate Jack Ma's Alibaba Group. It offers cloud computing services, such as data storage, relational databases, big-data processing and content delivery networks (CDN) to online businesses as well as Alibaba's own E-commerce ecosystem.
Alibaba Cloud's international headquarters was set up in Singapore in 2015, as Singapore is not only a perfect hub for Asia but for the rest of the world as well, said Leon Chen, Country Manager of Alibaba Cloud Singapore and Indonesia.
#2 A milestone collaboration
This programme is a first for Alibaba Cloud outside of its home country, China. The courses will be offered at the SMU Academy, the professional training arm of SMU, and will begin from March 2019. Led by Alibaba Cloud scientists, real-life case studies will be used to illustrate how different technologies and strategies can help these SME businesses succeed.
According to Dr Lim Lai Cheng, Executive Director of SMU Academy, the collaboration between the two parties leverages on "Alibaba's cutting edge technologies and leading industrial knowledge as well as SMU's thought leadership, academic rigour and outreach".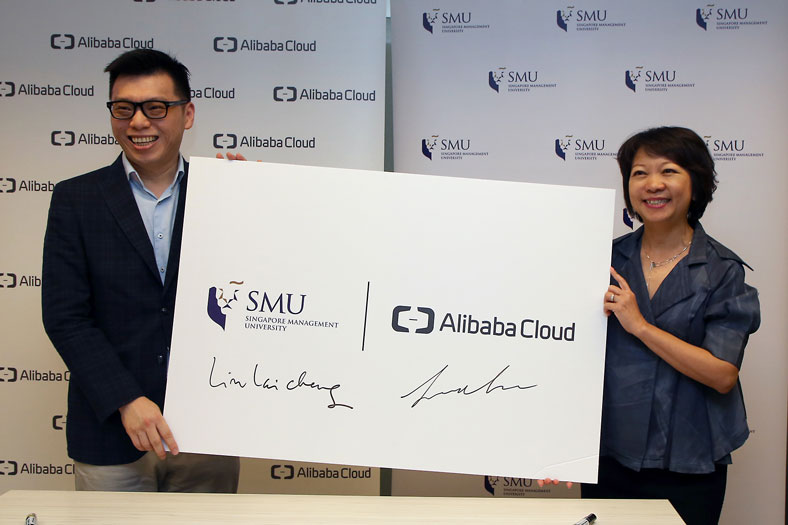 Mr Leon Chen (left) and Dr Lim Lai Cheng (right), representing Alibaba Cloud and SMU respectively, formalised the partnership on 1 February 2019.
#3 To get Singaporeans Smart Nation ready
According to Leon Chen, "as Singapore's Smart Nation becomes a reality, we will require Smart Citizens to lead the way."
To this end, the programme is aimed at working professionals and business leaders, and is funded by SkillsFuture Singapore. In fact, 70 per cent of the course fee will be subsidised for Singaporeans and Permanent Residents.
That's not all. 90 per cent of the course fees will also be subsidised for citizens over the age of 40 and for SMEs that send their local employees (Singaporeans and Permanent Residents) for training.
"Our partnership with SMU aims to help equip local businesses with the right tools and technology to propel Singapore onward," added Mr Chen.
"We hope to provide actionable advice through a blend of success stories and our holistic approach to technology to help create a future-ready Singapore."
#4 Knowledge is power
There are currently seven courses in the SMU-Alibaba series to sign up for, with each focusing on the latest digital strategies to transform business models, from offline to online, enabling them to compete in new markets. All courses are offered as part of the SkillsFuture Series as well.
Each course not only features case studies but also a workshop segment to encourage students to learn from one another while creating innovative ideas.
The courses are:
Big Data Analytics & its Applications in Business — Focuses on attaining real-world insights through the use of Big Data and analytics to help with better decision-making within any business organisation.
Essentials of Cloud Computing — Gain knowledge on different cloud computing services as well as a better understanding on the usage and adaptation of these services in their businesses.
Internet of Things: Technology and Applications — An overview of the Internet of Things (IoT), highlighting the constraints and opportunities of utilising it within an organisation.
Smart Retail & Marketing — Focuses on integrating E-commerce with offline retail, utilising data-driven marketing methodologies to boost revenue as well as leveraging on machine learning to optimise sales forecasting. For senior staff.
Smart Finance — Centres on how technology has revolutionised financial services while understanding the concepts and functionality of these technologies to increase client outreach via these new channels.
Smart Manufacturing — Gain understanding of key components of smart manufacturing, type of data required for real-time decisions and future analysis, as well as digital asset management to improve asset utilisation. For senior managers and business leaders.
Smart Logistics — An overview of the global logistics landscape along with the understanding of automation solutions to increase agility and elasticity of the logistics infrastructure and the study of data-patterns to predict, plan and align business operations at the same time. For business leaders.
There will be four intakes for the programme scheduled for March, June, September and December 2019, and the courses are open to working professionals, with some more suited for business leaders and senior managers. (More details here.)
#5 The next chapter
Currently, the SMU-Alibaba series is aimed at teaching and equipping working professionals with tools and skills to transform their businesses. But Dr Lim hopes that the community will continue to stay in touch and help one another. "Following the completion of their face-to-face training, we hope to encourage participants to continue learning and sharing through the use of Alibaba's online platforms. Over time, we hope to build a strong online learning community among Singaporeans and SMEs," she added.
Through the series, the academy also hopes to leverage on its faculty expertise to develop case studies of successful technological adoption by local companies that can be used as teaching resources for future SMU-Alibaba courses.
In the future, SMU and Alibaba Cloud hope to expand this series to include a mentorship programme to help participating SMEs to implement tech-enabled strategies for their organisations.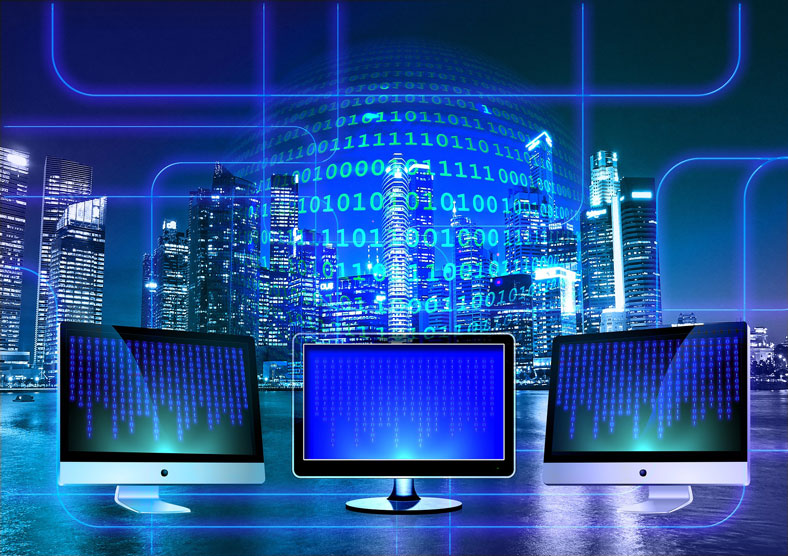 Image by
Gerd Altmann
from
Pixabay
.