On 10 February 2023, SMU paid tribute to its longest-serving Trustee and Chairman, Mr Ho Kwon Ping who had stepped down from the position. Over two and a half decades, Mr Ho had made an incredible impact on the University and its growth, so it was only fitting that his contributions were recognised by both current and past members of the SMU Board of Trustees and an illustrious guest list of VIPs during the Appreciation Event for Mr Ho held at the SMU Hall.
"His entrepreneurial thinking and his willingness to 'break the mould', so to speak, led to invaluable insights and refreshing new practices that have helped to shape our University into the innovative institution that it is today," remarked Prof Kong.
An impactful legacy that will last generations
Mr Ho's leadership of SMU began in 1997, long before the University opened its doors to students in July 2000. An Executive Chairman and Founder of international hospitality group Banyan Tree Holdings, Mr Ho and his council played a pivotal role in establishing SMU as a leading city university, which would redefine the landscape of higher education in Singapore and the region.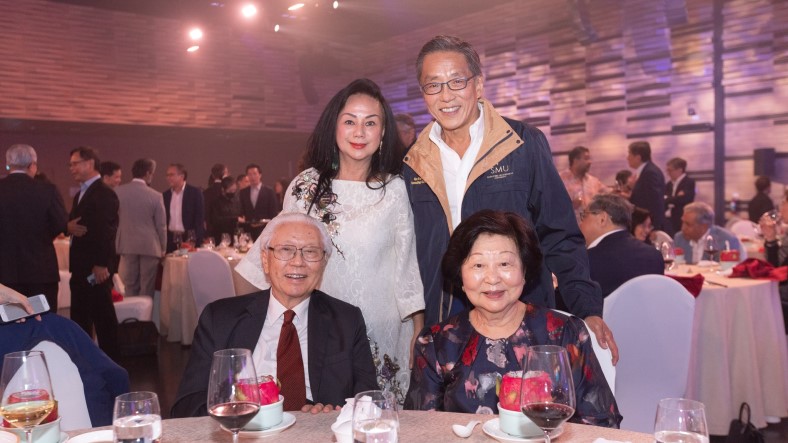 "It's quite clear that all of us owe a great debt of gratitude to Ho Kwon Ping, our founding father and Chairman of the Board over this entire period," said SMU Chairman Mr Piyush Gupta.
"Not often does an individual have such outsized impact, not just in determining the directions and fortunes of an institution of this nature, but in fact, of the landscape of higher education for a whole country in the process."
During his time as Chairman, SMU experienced substantial growth in student enrolment from its inaugural intake of 306 undergraduates in the year 2000, to a student population of more than 12,000across undergraduate, postgraduate professional and postgraduate research programmes, and over 34,000 alumni today; and a jump from a single School of Business at its launch, to eight Schools —including the new College of Integrative Studies which serves as an incubator of interdisciplinary learning.
Additionally, during his time at SMU, Mr Ho was instrumental in shaping SMU into a Different U, by setting a precedent for broadening the scope of what a business school should be. He set about evolving long-standing views of what a business school could offer, expanding the scope of 'management' beyond just business-related topics and embracing other disciplines. By doing this he wanted to ensure that SMU students were well-rounded individuals who could take on any challenge or opportunity that came their way once they graduated.
"Though I and others will come and go, SMU's journey continues and will never be done," said Mr Ho during his speech.
"The destination must intentionally remain an elusive and shimmering goal along the horizon. Otherwise, hubris will overtake us, and we will think we have actually arrived when, in fact, the entire value of a vision or a dream is to inspire us always — in the words of our SMU advancement slogan, 'to imagine better'."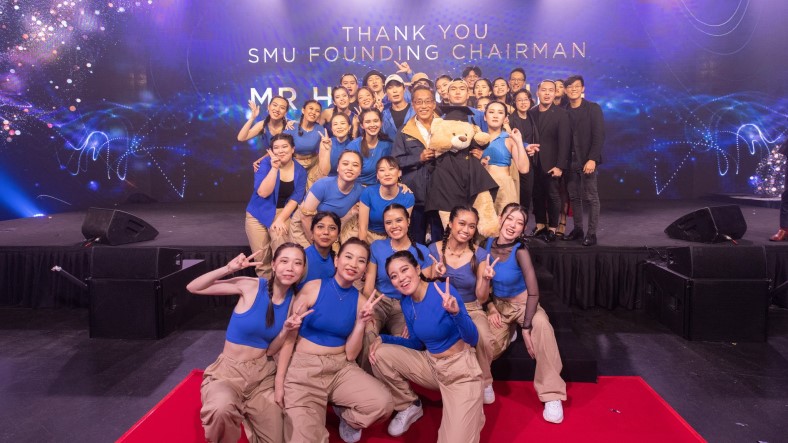 A fitting tribute
Prof Lily Kong announced that in recognition of Mr Ho Kwon Ping's outstanding contribution to the University over two decades, the SMU CIRCLE Award is renamed Ho Kwon Ping CIRCLE Award effective immediately. Since 2010, the CIRCLE Award is presented each year at the SMU Commencement Ceremony to students who have exemplified the core values that form part of the SMU acronym "CIRCLE" - Commitment, Integrity, Responsibility, Collegiality, Leadership, and Excellence. The University is proud that the Award has been named after Mr Ho, who has contributed so much during his tenure.
As SMU paid tribute to Mr Ho during the gala dinner event, the guests looked back at how much Mr Ho's contributions have meant not only for SMU but also for higher education in Singapore. A highlight of the evening was the screening of a video of tributes from members of the key leadership team who worked closely with Mr Ho.
"KP's legacy will live on through the many people he has mentored and the initiatives he has championed," said Prof Kong.
"He has left an indelible mark on SMU, and we are most grateful for all that he has done for us."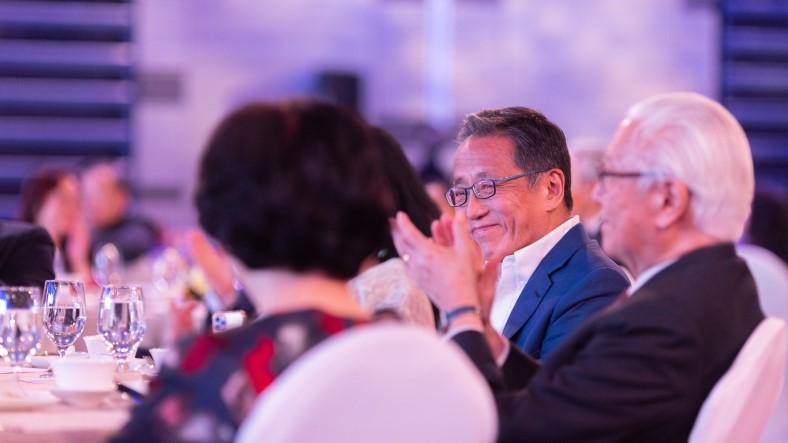 See more photos on SMU's Facebook page here.