SMU made environmental sustainability a core part of its mission long before this eco-conscious ethos started trending in the current zeitgeist. This dedication to sustainability was officially recognised at the recent Building and Construction Authority (BCA) awards ceremony, where three individual projects – SMU City Campus, SMU Administration Building, and SMU Prinsep Street Residences – each received a Green Mark Platinum Award. A fourth project, the SMU Tahir Connexion Foundation project (now known as SMU Connexion), even garnered the Green Mark Platinum (Zero Energy) Award, as a recognition for being one of the best-in-class energy efficient buildings.
This means the entire SMU campus has achieved 100% per cent Green Mark Platinum status. The BCA Green Mark Platinum status is the highest attainable level based on Green Mark scores, which are calculated based on factors such as energy efficiency, indoor environmental quality, and sustainable operations and management.
SMU President Professor Lily Kong expressed the University's delight at receiving this recognition, and highlighted SMU's commitment to embracing new solutions and technologies for sustainability.
"The four awards are a testimony to SMU's commitment to and efforts in maintaining and operating its buildings on a par with the highest industry standards with regard to environmental sustainability. The awards also serve as a recognition of SMU's efforts in leading and pushing its sustainability endeavours to a higher level by adopting the latest green solutions for the development of its new buildings and facilities," she said. "With the Green Mark standards evolving and the bar set ever higher, SMU has constantly sought to improve by pro-actively exploring new solutions and technologies which could be leveraged to upgrade its existing buildings and in future developments."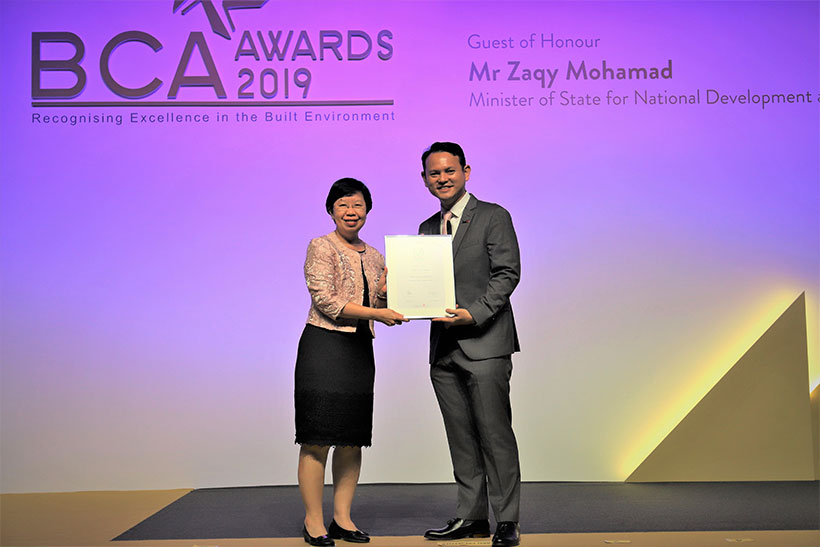 SMU President Professor Lily Kong received the BCA Green Mark Platinum (Zero Energy) Award for Tahir Foundation Connexion (now known as SMU Connexion) from Minister of State Zaqy Mohamad.
Designing a sustainable campus
Indeed, the adoption of innovation features has helped SMU to significantly reduce water and electricity consumption, even as it added new buildings and facilities and saw its student population double over the last decade.
Take the SMU Connexion, which is a zero-energy building. Its green features include self-shading building form, optimized lighting design, and a highly efficient chiller plant system.
On the SMU City Campus, motion sensors help to control the flow of cooled air to study rooms, meeting rooms, staff lounges and faculty offices, so that these rooms are cooled only when they are in use. The building is also deemed a Water Efficient Building by the PUB, Singapore's national water agency.
To keep its interior cool on hot afternoons, the façade of the SMU Administration Building is covered in low-emissivity glazing, which reduces solar heat gains; while its carpark houses a number of priority lots for green vehicles such as hybrid or electric cars.
The SMU Prinsep Street Residences save an estimated 274,824 kWh/year, thanks to features such as an efficient dimmable LED lighting system, and an Energy Smart Integrated System that controls building services such as lights, fans, and power meters.
Creating an eco-conscious ethos
Mr Sundaravadivelan Selvam, Vice President of SMU Office of Campus Infrastructure and Services, shared three key reasons for SMU's win: a whole-of-University approach to sustainability, the alignment with national objectives, and the development of infrastructure that supports SMU's dynamic pedagogical and operational requirements.
The whole-of-University approach to sustainability, for instance, combines the efforts of the University's management in providing purposeful guidance, as functional units upgrade equipment to be more water and energy-efficient. "Beyond hardware improvement, concerted efforts through ground-up and management-led awareness activities have contributed to a noticeable shift in the behaviour of SMU faculty, staff and students in becoming more proactive in conserving water and electricity," said Mr Sundar.
Government agencies such as the BCA have also played key roles in enabling SMU to explore and implement new sustainability initiatives, while consultants and contractors provided invaluable industry expertise and technical capabilities. "Their orientation and commitment towards environment sustainability have been instrumental in aligning the efforts for seamless delivery of green buildings in SMU," he said.
The BCA Awards were presented by Singapore's Minister of State for National Development Zaqy Mohamad at a ceremony at Resorts World Sentosa on 29 May 2019. Before the ceremony, SMU signed an Agreement of Partnership with the BCA and the Singapore University of Technology and Design, to develop training programmes that will support leadership development in the built environment sector.
See also: SMU bags four BCA Green Mark Platinum awards, signs agreement to nurture leaders of built environment sector