In recent years, e-commerce, data analytics, artificiaI intelligence and machine learning have made the quantum leap from being mere buzzwords to real revenue-generating technologies: a fact borne out by a 2018 study by US management consultancy Bain & Co which found that digitalisation could grow the Asean gross domestic product by an estimated SGD 1 trillion by 2025.
There is no better time than now to be early adopters and ride the waves of the digital transformation of Singapore. In partnership with Google Singapore, SMU's new SMU-Google Squared Data & Analytics Programme (SMU-Google Squared Programme) hopes to step up to the plate and play a part in developing the workforce for their new roles. Launched in 2014, the partnership marks the first time Google is extending its Google Squared Data & Analytics Programme to the undergraduates of a local university. It was previously run as a collaboration between Google and Singapore's Infocomm Media Development Authority (IMDA) under the latter's TechSkills Accelerator (TeSA) initiative, and was open only to fresh graduates in Singapore.
Through the programme, SMU undergraduates from second year onwards will have access to the most cutting-edge data and analytics skills training, affording them an abundance of career opportunities upon graduation. "The aim of this Programme is to nurture future-ready analytics talent to meet industry demand," said Professor Lily Kong, President of SMU.
Through courses on Analytics Foundation and Digital Analytics Technology, the programme will equip students with the necessary theoretical knowledge. As part of a compulsory work-study elective, each student will also undergo a six-month long internship at a Google partner company from the 'big six' global media agencies as well as leading brands across the online travel, e-commerce, ride-hailing and finance sectors, such as Dentsu Aegis Network, Publicis, Carousell, Expedia, and Grab.
The internships will "enable students to better interlace institution-based learning at the University with structured on-the-job training at a partner organisation, and will also facilitate more substantial and impactful work opportunities within the attachment company," added Professor Kong.
At the special event organised to celebrate the SMU-Google partnership on 31 January 2019, guest-of-honour Chief Executive of IMDA Tan Kiat How stressed that the Digital Economy requires new mindsets and skills, and that IMDA has been working with the industry, through the TeSA initiative, "to nurture a pipeline of future infocomm and media leaders for the Digital Economy." He said: "This is a key initiative that aims to build and develop a skilled ICT workforce for our economy, and to help secure employment for individuals."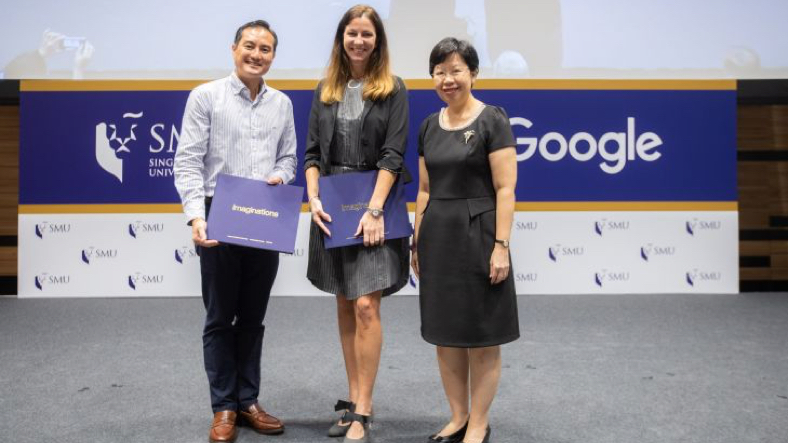 (Left to right) Mr Tan Kiat How, Ms Stephanie Davis and Prof Lily Kong at the special event organised to commemorate the partnership between SMU and Google.
In a time when data and its analysis are so crucial to virtually every industry, Stephanie Davis, Country Director of Google Singapore believes that there are huge benefits to be reaped from the SMU-Google Squared Programme. Firstly, it offers an opportunity to pick up hard and soft skills through the curriculum; secondly, the hands-on experience gained from an internship at a leading media company in Singapore; and lastly the rich networking opportunities within the industry, she said in her speech at the same event.
These were the same reasons Year 2 student Tan Peng Chong from SMU School of Information Systems was drawn to the programme in the first place, as he strongly believes that hands-on learning through an internship is the best way to learn. Since joining the programme, he has already benefited greatly from the insights shared by experts at Google during sharing sessions, and hopes to be able to put these new into practice when he starts his internship with a Google partner company for six months.
For more information, click here