The benefits of higher-education alliances and networks are well-established to lie both in the tangible – for example, student benefits such as exchanges and mobility programmes – as well as the intangible – such as building up of informal relationships and exchange of ideas that result.
To go further, said Professor Lily Kong, President of SMU, regional alliances, and thematic networking should develop their global reach. She was speaking at the recent Times Higher Education (THE) Asia Universities Summit Day 1 session "Alliances and networks in 2050", which explored the role of higher-education alliances, networks, and consortia across Asia, as well as their expected development by 2050.
Moderated by Mr Phil Baty, Chief Global Affairs Officer of THE, the panel consisted of Prof Kong and fellow panellists Professor Deborah Buszard, President and Vice-Chancellor of the University of British Columbia; Dr Pornchai Mongkhonvanit, President of Siam University; and Professor Thomas Schneider, Chief Executive of the Association of Pacific Rim Universities.
The effect of geopolitics on higher education
One of the topics discussed during the session was the repercussions rising geopolitical tensions, would have on higher-education communities. During the discussion, Prof Buszard expressed the notion that university communities are, at their foundation, communities of scholars who see no boundaries and are committed to their disciplines and areas of interest.
This belief was reiterated by Prof Kong, who went on to address the role of locally initiated networks and alliances, and the question of whether we could expect to see the formation of more regional and local networks, like the Asian Universities Alliance or the University Alliance of the Silk Road.
"The question of whether it is a local, regional, or global alliance may not be the appropriate question. The value of alliances is precisely in its multiplicity," she said, going on to acknowledge that regionally focused alliances would undoubtedly grow in importance.
"The growth in the number of universities — of leading universities in Asia,means that regional alliances and networks have a growing role to play. These alliances will provide partner universities with the opportunities to develop ideas, insights, perspectives, and solutions that are contextually relevant, and that are aligned with the realities in the region."
Despite this, Prof Kong stated that this does not mean regional networks and alliances are the be-all and end-all. Explaining that the diversity of countries in the region meant that some universities would have more in common with universities in other parts of the world outside Asia, she concluded that a combination of global and regional alliances would continue to pave the way for the highereducation community.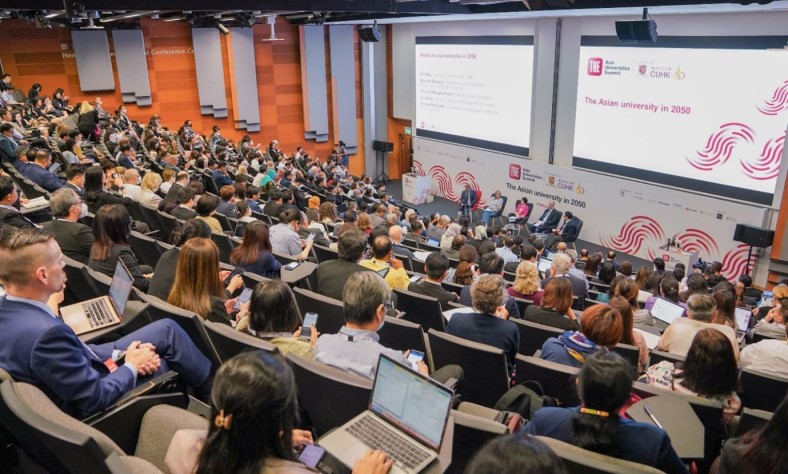 Thematic networks and university-industry alliances
During her discussion, Prof Kong also highlighted the importance of thematic alliances, which are committed to particular Sustainable Development Goals, or which are oriented towards a particular function of a university.
She cited examples of  various thematic networks within the ASEAN University Network (AUN), such as the Libraries of ASEAN University Network (AUNILO), which serves as a platform for academic resource sharing, the AUN Student Affairs Network (AUN-SAN), which allows student affairs offices to share ideas and practices that will help students thrive, and the AUN University Innovation and Enterprise (AUN-UIE), which focuses on collaboration in the areas of entrepreneurship education, university-industry cooperation, and community development.
"These thematic networks add another layer of value to the partnerships and cooperative efforts, because these groups have a common focus and challenges that they can talk about beyond general alliances and networks," Prof Kong explained.
Prof Kong added that alliances should not be formed solely between universities, but also between universities and industries. "With these alliances, we might be able to bring to bear deep research and theoretical ideas on various industries. In turn, the needs of the industries can have bearing on the kinds of research that goes on in universities."
"It might be difficult and challenging, but such alliances give the real opportunity to ignite different perspectives."