The opening of SMU's 2023 Academic Year was marked with an exciting freshmen orientation, a mega Co-curricular Activities (CCA) Fair and a special opening celebration dinner. The Opening welcomed the 24th cohort of about 2,500 freshmen, who began their first Academic Year at SMU on Monday 14 August 2023.
The orientation event, SMU Freshmen Orientation "SMUniverse", was held in three separate runs in July and early August, with each run lasting for three days. The event saw 43 passionate student organisers and more than 190 student facilitators, game masters and staff trainers come together to organise activities to welcome incoming freshmen. 
The event set the stage for the enriching university life that awaits these new additions to the SMU family and provided an avenue for incoming students to cultivate long-lasting friendships.
Freshmen were also introduced to the SMU curriculum and the various CCAs available. They were immersed in SMU's vibrant culture while playing engaging games that centred around the SMU CIRCLE values.
Besides the Freshmen Orientation, Vivace, SMU's annual CCA fair showcased more than 150 student clubs ranging across academic, sports, and community interests. Held on 10 and 11 August, Vivace featured performances by various CCAs, interactive booths and a mix of fringe activities such as photobooths and games.
On the evening of 11 August 2023, the SMU Academic Year Opening was held at the SMU Hall and was attended by about 580 guests comprising members of the SMU Board of Trustees, senior management, faculty, staff, donors, student leaders, alumni and freshmen from both undergraduate and postgraduate programmes. The new Academic Year was ushered in with a grand procession, a four-course dinner, and energetic themed performances by students.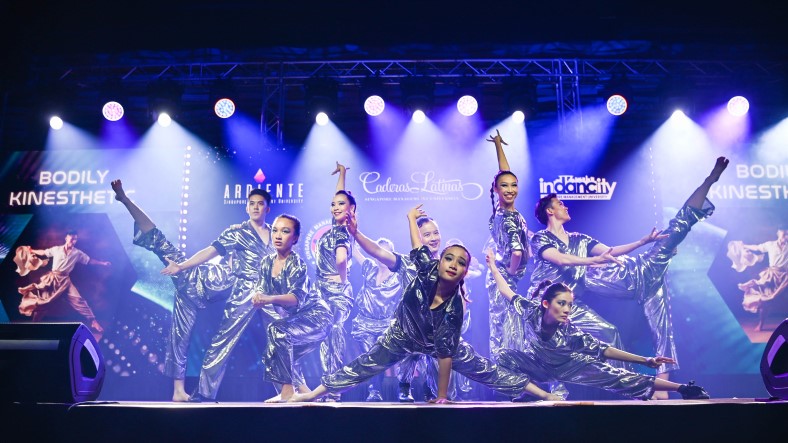 This year's SMU Academic Year Opening celebrated the capabilities of human intelligence in a period where artificial intelligence is on the rise. Students were encouraged to continue developing various types of human intelligences both within and out of the classroom and were reminded of the importance of skills such as emotional intelligence and interdisciplinary thinking, especially amid the changes brought to many industries by new technologies.
Continuous enhancements to courses and offerings at SMU
Besides nurturing distinctive identifies and core competencies in the various schools of SMU, the University is focused on enhancing the opportunities for students to be exposed to real-world perspectives, as well as obtain more multi-disciplinary learning experiences through the various SMU-X offerings.
As part of the University's efforts to develop students into career-ready graduates, the CCA Transcript was launched in April 2023. This transcript aims to help students reflect on, and indicate more clearly to employers, the range of skills that they have developed through their involvement in CCAs.
There are also a number of new offerings that are being introduced for the first time in Academic Year 2023–24. For example, the Deferred Declaration of Degree (D3) programme and Singapore's first Individualised Major (IM) programme will be offered to the first batch of students who have been elected into the College of Integrative Studies (CIS). Under the D3 programme, students can take their first year to explore their intellectual interests, enabling them to make an informed decision on their eventual degree programme. Students admitted to D3 can reserve seats in up to two degree programmes across SMU schools.
Students admitted into the first CIS cohort will also be able to design and customise their own unique major through the IM programme, while others who wish to pursue a first major in another SMU School can also enjoy the advantages of the individualised programme through the Individualised Second Major (ISM). In this way, students from other SMU schools can design an unconventional major that supplements their primary degree programme.
Besides these new offerings from CIS, the University also continues to ramp up its offering of SMU-X courses in the new academic year. This year, there are at least 55 SMU-X courses that undergraduates can choose from, including new courses that focus on interdisciplinary topics such as "Corporate Deals", through which students can obtain contextual understanding of the major types of corporate deals, and learn to tackle problems arising from these deals.
Students can develop their legal writing skills and learn to communicate their analysis to both lawyers and non-lawyers in "Advanced Legal Writing: Student Publishing". By the end of the course, students would have worked closely with industry mentors, and submitted their legal articles to the Singapore Law Journal or other reputable publications.
New SMU-X Overseas courses will offer students the chance to learn in an overseas context, something that is especially relevant to topics such as arts management and cultural exchanges, as well as digital business transformation across Asia.
SMU will also continue to work with local and overseas partners to roll out these new SMU-X Courses throughout the academic year.
Furthermore, SMU is looking to provide close to 45 per cent of the new intake with scholarships or awards that are bond-free, ensuring that no deserving student will be deprived of an education due to financial hardship.
The University is committed to delivering a high-quality SMU education that will develop its students into confident, well-rounded young men and women, who are capable of being trusted leaders and responsible global citizens, and whose contributions will make meaningful impact in Singapore and beyond.