The 2023 MIT Asia Conference in Accounting, which was held at SMU from 10 to 11 July 2023, was the first time that this annual conference was hosted in Singapore. It was also the first time the conference returned to an in-person format since COVID-19 struck in 2019. 
The event was preceded by a Doctoral Consortium on 9 July 2023, giving PhD students from Asia and beyond the opportunity to interact with leading teachers, researchers, and their peers prior to the conference.
In his welcome speech at the conference dinner, SMU Provost Professor Timothy Clark welcomed attendees, and thanked MIT Asia for entrusting SMU with co-organising the prestigious conference.
"It is a tremendous testament to the trust and recognition we've earned as a leading institution in education and research on accounting," said Prof Clark, going on to share some information on SMU's Vision 2025.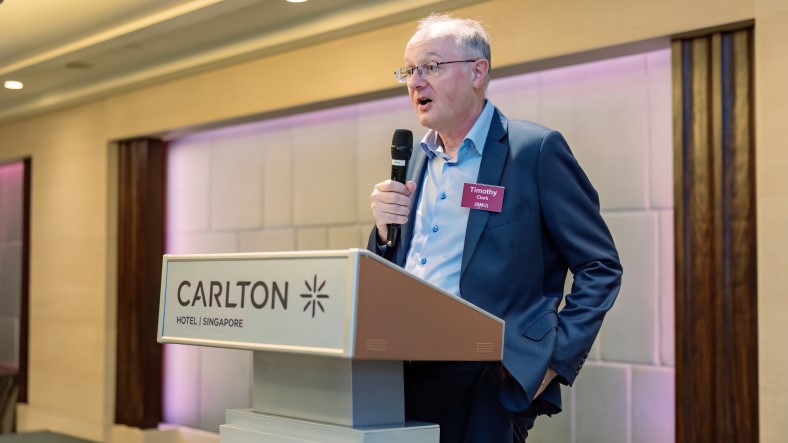 Touching on the university's three strategic priorities of digital transformation, sustainable living, and growth in Asia, Prof Clark observed that many of the conference papers over the two-day conference had themes that were related to these priorities.
This could also be observed in SMU's papers that were selected for submission at the event. Of the five, three were related to environmental, social and governance (ESG) issues and two were related to digital transformation in financial markets, which is in line with SMU's sustainable-living and digital transformation priorities.
The subject of disclosure was another popular topic for papers at the conference, with a third of the papers presented looking at disclosure in different domains, including ESG and the impact of voluntary disclosure on markets.
The two-day conference saw a total of 170 academics and practitioners of accounting and corporate governance in the Asia-Pacific region, the United States, Europe and beyond come together to share and discuss 36 papers looking at different areas of research. Presented in six concurrent sessions, papers were further divided by topics, allowing attendees to attend the section with topics that best fit their areas of interest.
How disclosure affects decentralised finance market users
The conference provided a platform for attendees to share their research and get feedback from their peers to improve the robustness of their studies and findings. Five papers from SMU were selected to be presented at the conference, with one of the papers clinching the Best Paper award. Titled "The Role of Disclosure in DeFi Markets: Evidence from Twitter" the paper was authored by Dr Amanda Aw Yong, a graduate from SMU's PhD in Accounting.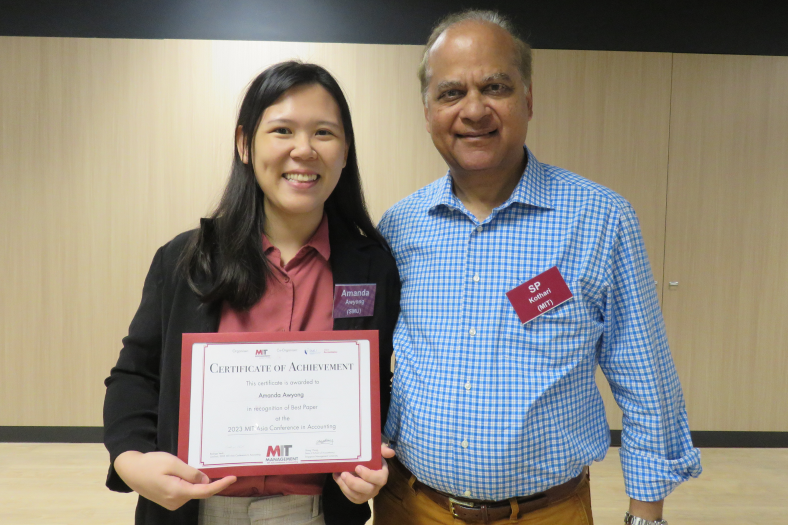 Used as an umbrella term for financial services on public blockchains, decentralised finance or DeFi is an emerging financial technology that eliminates the intermediaries and allows people and businesses to directly conduct financial transactions anywhere they are – if they have an internet connection.
Dr Aw Yong's research sought to understand if presenting summarised information could increase the platform's Total Value Locked (TVL) and unique users. The results of the study supported this idea, showing that voluntary disclosure of blockchain information on Twitter results in an increase in the TVL and unique users.
These results help to provide some insight into the current information environment in DeFi, and will be useful for regulators looking to design disclosure regulations within these markets.
"I am delighted that my paper received recognition from the MIT Asia community. It is my hope that more accounting and finance researchers will invest time in helping us understand this alternative ecosystem [DeFi] and how it can fit into the existing economy," Dr Aw Yong said.
"Since this paper is based on my dissertation completed at SMU, this award is testament of the invaluable mentorship that the SOA faculty has so generously given over the past five years."
Researchers from SMU show findings across multiple domains
All four of SMU's other research papers were also well received, and feedback from conference attendees will certainly help increase the robustness of the research, solidifying their findings further.
In the domain of ESG, two of the papers from SMU examined how certain ESG disclosures impact greenhouse gas emissions and the consequences of ESG reporting divergence.
Another paper also investigated how environmental regulations might in fact benefit firms, contrary to the general existing line of thinking that such regulations create an excessive burden on firms.
The last paper from SMU examined the effect that misinformation regulations such as the Protection from Online Falsehoods and Manipulation Act (POFMA) have had on the way information is disseminated on social media.
While exploring different domains, all the research papers show significant relevance to current trends in the world and add to a growing list of literature that policymakers can use to make better informed decisions.
Those interested in the full conference programme or the papers presented at the conference can find the material uploaded to the MIT website.