The new SMU-Duke-NUS Medicine Pathway aims to groom future clinicians who can help mould the healthcare ecosystem with a multidisciplinary perspective.
Medical professionals are often academically exceptional, possess a deep sense of awe in discovering the human body, and find a sense of fulfilment in restoring health to those in need. However, physicians also play an integral role in the healthcare system, and need to grasp the structure and inner workings of that very system in order to make a meaningful impact.
While the practice of modern medicine is more rewarding than ever before with exciting breakthroughs in scientific and technological advancements, with new innovations also comes greater expectations.
Beyond expertise in medical science and the ability to communicate with patients, doctors need to pick up skills such as maximising care through technological tools, or navigating and shaping increasingly complex and digitalised healthcare systems to improve the quality of care for patients.
This is why the new SMU-Duke-NUS Medicine Pathway aims to groom future clinicians who can help mould the healthcare ecosystem with a multidisciplinary perspective. Students will pursue a four-year undergraduate programme at SMU in law, social sciences, business or computing, and gain a conditional admission to Duke-NUS' four-year Doctor of Medicine (MD) programme.
Professor Timothy Clark, Provost of SMU says, "SMU is delighted to partner with Duke-NUS to offer this medicine pathway to our students who aspire to become doctors of a different kind – those who are not only trained in medicine, but also in their chosen undergraduate discipline.
Increasingly, societal challenges have become multi-dimensional, and solutions are often to be found at the intersections of different disciplines. We are confident that graduates of this pathway will be equipped with the skills."
The changing face of healthcare
The organisation of healthcare provision has changed considerably over the past few decades. Factors such as rising healthcare costs, privatisation, public-private partnerships, emerging demographics trends such as ageing populations, and technological disruptions have all contributed to changes in the environment within which most healthcare systems around the world operate.
These changes have had significant implications for medical professionals. In the past, the division of labour in healthcare meant that medical professions were largely separate from managerial roles, but this is no longer the case. Such factors are also reshaping healthcare systems and services and these are having profound implications for the types of skills needed by doctors as well as those looking to take on other roles in healthcare.
The demand for people with hybrid skillsets – combining other competencies with medicine - is therefore on the rise. However, as a 2018 article "Medical School Students Getting the Business", published in the American Association for Physician Leadership, suggests, the topics of healthcare financing, organisational management and process improvement are not usually covered in traditional medical school curricula even as "the need for physician leaders skilled in both clinical and business aspects is greater than ever."
"Duke-NUS is excited to offer this new pathway, which gives undergraduates of diverse disciplines access to our innovative MD programme," says Professor Thomas Coffman, Dean of Duke-NUS.
"Here, they can become adept at channelling their varied interests towards shaping the future of healthcare with precision and agility. This is what underscores our Clinicians First, Clinicians Plus distinction, where Duke-NUS clinicians get the opportunity of becoming leaders, innovators, educators and more."
By producing clinicians with a solid understanding of the business and management of healthcare operations, the new SMU-Duke-NUS Medicine Pathway has been developed specifically to address the emerging demand for healthcare leaders with these hybrid skills.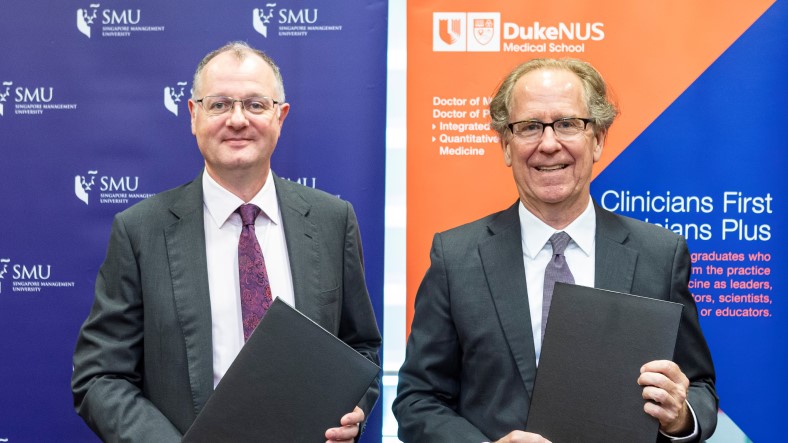 A pathway to success
At the undergraduate stage students will pursue a four-year undergraduate programme at SMU and will also be mentored and participate in Duke-NUS enrichment activities in preparation for (conditional) admission to the Duke-NUS Doctor of Medicine (MD) programme.
Students accepted on the Pathway will pursue the courses required for their selected SMU programme as well as the Core Curriculum, which comprises 12 courses curated to nurture well-rounded and adaptive graduates. The courses stem from key pillars such as Numeracy, Writing and Reasoning, Modes of Thinking and an internship.
Furthermore, students are encouraged to take a second major in Health Economics and Management (HEM) and have the opportunity to participate in a six-month healthcare sector internship via the HEM Work-Study Elective.
Over at Duke-NUS, students will be mentored and involved in enrichment activities to prepare them for the MD programme, while still pursuing their undergraduate studies at SMU. A pre-medical course will provide students with the foundational knowledge, skills and attitudes to help them excel in their clinical and scientific training. Duke-NUS has designed a summer programme to provide insights into graduate entry medicine, roles of medical professionals and medical practice in Singapore. A shadowing programme pairs students with a Duke-NUS faculty and practising doctor who can provide insights into the medical profession; as well as medical specialities workshops, advising sessions with Duke-NUS faculty, and community projects. SMU students will also have the opportunity to observe how Duke-NUS students and faculty train within the SingHealth Duke-NUS Academic Medical Centre (AMC), and how this infrastructure allows the development of outstanding clinical education and research collaborations that translate to better outcomes for patients.
Students who complete the pathway will graduate with a Bachelor degree from SMU, and a Doctor of Medicine degree from Duke-NUS.
Maxine Hong, a first-year student at SMU School of Law who has been accepted by the SMU-Duke-NUS Medicine Pathway, suggests that an understanding of the relationship between law and medicine "is crucial to building a healthcare ecosystem of the future that is able to meet the evolving needs of society."
"SMU's holistic education and unique pedagogy would enable me to approach problems with fresh lenses, potentially discovering new and better solutions," adds Maxine.
"This pathway presents a valuable opportunity for me to pursue my interests in both fields, and will equip me with the knowledge, soft people skills and a deeper appreciation to tackle the challenges of today and tomorrow."
Geraldine Lee, a first-year student at SMU School of Information Systems who has also been accepted by the SMU-Duke-NUS Medicine Pathway says: "Technology permeates every aspect of our society, and contributes significantly to the advancement of medicine.
With SMU's holistic education to nurture enterprising individuals who are equipped with deep knowledge in selected domains and possess a passion to give back to society, as well as Duke-NUS' innovative curriculum, I look forward to blending and assimilating my knowledge in Computing and Medicine to contribute meaningfully to society."
See also: SMU and Duke-NUS launch new medicine pathway to nurture future leaders of healthcare.