SMU students will be able to take up Singapore's first Sustainability major and gain a competitive advantage upon graduation
With climate change becoming one of the central challenges of the modern age, sustainability is set to stay a pressing priority. As such, SMU and DBS, a multinational Singapore-headquartered bank, are partnering on a comprehensive initiative that aims to promote and grow sustainability. The DBS-SMU Sustainability Initiative is the first of its kind in Southeast Asia, and it includes the introduction of Singapore's first Sustainability major.
The SMU Lee Kong Chian School of Business will begin offering this from Academic Year 2019 to equip graduates with the knowledge and skills to implement sustainable practices in businesses that lead to long-term measurable impact, and gain a better understanding of the role that businesses can play in contributing to sustainability goals. This is the first time sustainability is being offered as a specialisation within a business degree in Singapore.
All SMU undergraduates going on to Year 3 will be able to choose Sustainability as a second major. This second major will help enhance the knowledge these students currently have and equip them with theories and frameworks to tackle sustainability issues.
Students who choose Sustainability as their second major will be able to choose from electives such as Sustainable Finance, Sustainable Operations, Social Entrepreneurship, and Sustainable Growth in ASEAN.
The joint initiative also includes the DBS Sustainability Scholarships with two scholarships per academic year, which will be open to full-time SMU undergraduates who are Singaporeans or Singapore Permanent Residents, are proceeding to Year 3 and have declared Sustainability as a Second Major.
Two DBS Fellowships will also be established to attract and retain research scholars in the field of Sustainability who will conduct research in sustainability and expand outreach efforts to create meaningful impact.
Additionally, one DBS Sustainability Business Study Mission will be organised per academic year, starting in Academic Year 2019 for SMU students to visit regional centres of excellence in sustainability. These study missions will provide added experiential learning opportunities, as well as help develop skills such as critical thinking and practical application.
Talent Development
Another highlight of the DBS-SMU Sustainability Initiative is the DBS-SMU Enterprise Development. For this programme, SMU will pair students with relevant skills with projects related to organisational improvement in (up to) 10 social enterprises supported by the DBS Foundation.
In this programme, students will provide support and receive valuable on-the-job learning in various areas of these businesses, such as developing digital strategies for media campaigns and exploring entrepreneurial approaches to benefit clients and organisations. This exposure will hopefully help to acquaint students with the sustainability-related problems faced by real-life companies and hone the skills needed to overcome them.
Said Shee Tse Koon, Singapore Country Head at DBS Bank: "Being purpose-driven is part of DBS' DNA. In particular, one focus area is how we can create social impact, whether through our support of social enterprises, or by partnering with business, communities and the public. In many ways, Singapore is well-placed to become a model city for sustainable development and our hope is that this partnership will cultivate a thriving pool of talent and businesses that will help us become a world-class centre of sustainable development excellence."
"Increasingly, businesses have embraced sustainability as part of their strategic goals," agreed Professor Gerard George, Dean of Lee Kong Chian School of Business at SMU. "The multi-pronged efforts under the DBS-SMU Sustainability Initiative will help nurture SMU students to meet the needs of the job market, foster research excellence and build intellectual capacity among our faculty, as well as raise the general awareness of sustainability issues."
The DBS-SMU partnership was sealed with the signing of an agreement by Professor Gerard and Shee Tse Koon, with DBS committing to contributing S$600,000 in the first two years of the partnership.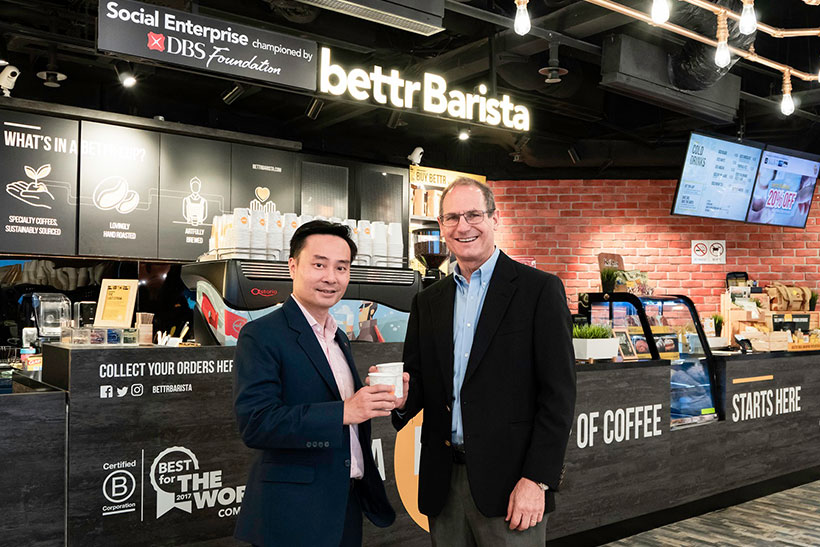 SMU Vice Provost (Research) Professor Steven Miller and DBS Singapore Country Head Shee Tse Koon met at DBS-supported social enterprise Bettr Barista to discuss the details of the multi-faceted DBS-SMU Sustainability Initiative
See also: Nurturing a sustainability mindset.