When Professor Chandran Kukathas recalls his time as an undergraduate in the 1970s, he remembers what he describes as rather carefree days, despite having considerably fewer available resources compared to students of this era. "There were many inconveniences back then, including the problem of getting access to readings in a world without the internet, PDF files and digital journals. What I most envy of my students now is how much material is at their fingertips," he said.
But with technological advancements come several drawbacks. He added: "I think the increase in the pace of life that has come with time-saving technologies has made life more stressful. The time saved has not been turned into time for leisure but has been filled with other duties and an expectation of a quicker turnaround. I think I could be – and was – a good deal lazier than my students today!"
Professor Chandran was recently named the new Dean of SMU's School of Social Sciences (SOSS) – a role he will assume on 1 July this year. While he expressed enthusiasm for the opportunity and looks forward to working with his new colleagues, he already has a vision for what he hopes to accomplish with his time here.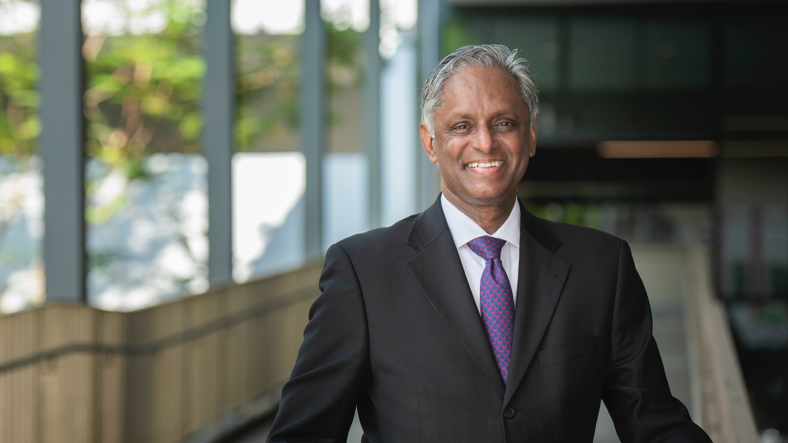 Professor Chandran Kukathas, Dean-designate of the SMU School of Social Sciences.
"I want to find ways of making SOSS not only a vital part of SMU through its contribution to the Core Curriculum, but also a leader in the development of SMU's profile as a university where the great issues of the day are discussed in a way that is accessible to the broader public, both in Singapore and more widely in the region," he said.
"In the long-term I hope to help SMU become the place that people look to as a leading venue for the discussion and communication of important ideas. This requires the cultivation of our students by supplying them with an education that makes them capable of playing a leading role in society when they graduate. This in turn requires that they not only be well taught but also be educated in an environment that is intellectually challenging and exciting," added the professor, who was previously the Head of Department of Government at the London School of Economics and Political Sciences (LSE).
One way he plans to work towards his vision is by bringing in scholars and thought leaders from around the region and beyond to engage with the local intellectual community under the leadership of SMU.
Professor Chandran was born in Malaysia, and studied in Australia before obtaining his PhD at the University of Oxford in England. Having spent his career in academia and teaching at a number of universities around the world, he has a few observations of how undergraduate life can differ significantly between universities.
For instance, "At the University of Utah, a significant portion of the undergraduates were married and working and perhaps had young children. There was a greater preponderance of students with conservative political views, which made for lively discussion in classes where ethical convictions varied," he said.
However, "At LSE it was rare to hear a conservative voice. And at Oxford, I found undergraduate life was very much shaped by their colleges, which supplied the resources for many student activities as well as facilities to share meals, common rooms, sporting teams and other identity-creating ways of associating."
One reason he noted for this is the different ways in which degrees are structured. And as far as curriculums are concerned, there is a great variety found in universities around the world.
"American degrees are normally four-year degrees and allow students to take a greater variety of courses before opting to concentrate on a field. English degrees tend to be more confining as students start to concentrate their studies from the very outset and three years pass very quickly. Australia has three-year pass degrees with an optional honours year for outstanding students — who in effect do something of the level of an English Master's degree. Europe is another story altogether!" he said.
On a more personal note, Professor Chandran recalls how his undergraduate life wasn't just about nose-diving into the books. As an avid football fan and player, he spent a good many days on the field and still reminisces about his playing days.
He said: "Until my third year as a PhD student I played football every season and that was my favourite pastime. I still feel an ache and a longing to join in when I see people kicking a ball in a park. But is no longer an option, sadly."
Aside from soccer, he also loved cooking and writing fiction. And even though he hasn't published his first bestseller just as yet, he maintains that writing remains a great source of pleasure and relaxation.