At the inaugural SMU City Dialogues Series, nearly 60 key industry professionals from around the world shared ideas and debated strategies for battling climate change.
Sustainability is a pressing global issue with multifaceted local contexts. In Southeast Asia, for instance, the region's increasingly crowded cities are both engines of economic growth and potential multipliers for the devastating impact of climate change. Can cities such as Singapore balance growth and sustainability, or will something have to give?
On 25 October, nearly 60 influential industry professionals from around the world gathered at the inaugural SMU City Dialogues Series to discuss the topic: "Can sustainable urban development nurture continued economic growth in Singapore?"
Themed Inspiring Solutions: Growing Green, the one-day symposium provided a platform for the sharing of ideas and a discussion of best practices in managing the climate and environment. Stakeholders from the private sector, government and academia also took part in lively panel discussions over the course of the afternoon. Topics included the value of sustainability to businesses, how waste is managed in Singapore, and lessons Singapore businesses could learn from their regional and global counterparts.
Singapore's role in battling climate change
In his speech, Guest of Honour Robin Hu, Head of the Sustainability and Stewardship Group at Temasek International, highlighted how much Singapore has evolved since the 1950s. Unfortunately, this has resulted in a negative impact on the environment, as energy and water consumption has steadily increased along with Singapore's GDP.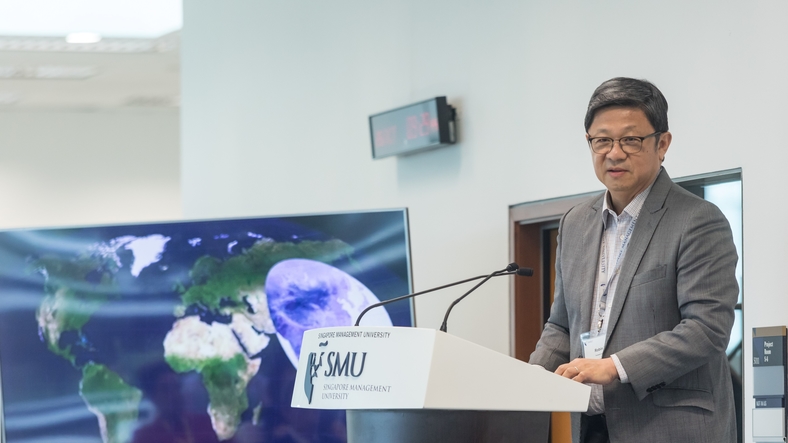 But, in 2016, Singapore signed the Paris Agreement, and "pledged to reduce emissions intensity by 36 per cent (from 2005 levels) by 2030, and to reduce total carbon emissions beyond 2030", said SMU President Professor Lily Kong in her welcome address.
Through this year's SMU City Dialogues Series, SMU will work to contribute towards this goal by facilitating and participating in meaningful discussions "between stakeholders from the private sector, government and academia, to share ideas and best practices in tackling some of the key challenges facing the world today", she shared.
The goal: to come up with "specific, practical and implementable recommendations and proposals to address these challenges", she added. "These proposals will be shared publicly with the relevant parties who have significant influence in the areas under review. We will also encourage participants to commit themselves and the organisations they represent to promoting the execution of these proposals."
The regional context
In addition to tackling climate change within Singapore, Dr David Dodman, Director of Human Settlements at the International Institute for Environment and Development (IIED) in the UK, also raised the need for considering neighbouring countries. In his keynote speech at the symposium, he broached the topic of "Responding to the climate crisis through transforming Southeast Asian cities".
"330 million people live in urban areas in Southeast Asia, and this figure is expected to go up to 400 million by 2030, and 526 million by 2050. In Southeast Asia alone, urban areas are going to have to accommodate another 200 million people in the next 30 years. This is happening at the same time as rapid and unprecedented change in our climate," he noted.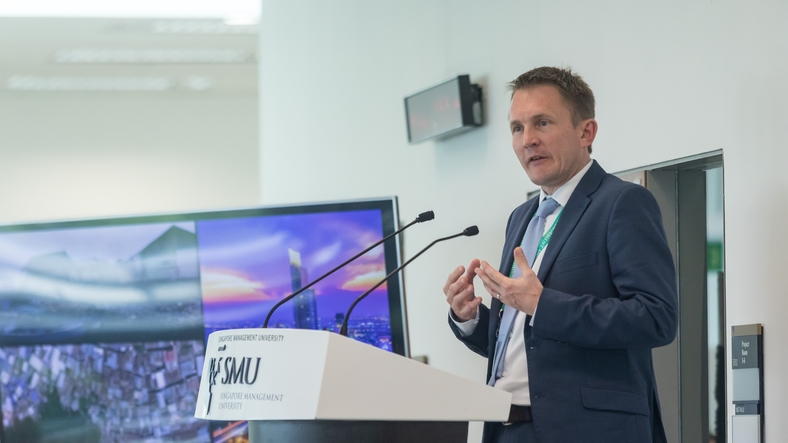 As cities become more crowded, the risks and impact of climate change will increase, explained Dr Dodman. Natural disasters such as flooding, or health challenges brought on by changing distributions of vector-borne diseases could potentially cause real damage, especially in low-income areas and among more vulnerable groups such as the elderly and young children.
Given Singapore's strategic location, there is a lot it can do to support its neighbours in terms of sharing innovation, research, and even financial strategies, he said.
See also: Greater understanding is key to battling climate change.