To catalyse innovation that reflects human values, the godfather of Internet philanthropy is devoting his next act to empowering change-makers in education.
The rise of the machines is no longer just the stuff of science fiction. With technology playing an increasingly dominant role across industries, up to 47 per cent of jobs may to cease to exist in the next 25 years, said Tencent co-founder Charles Chen Yidan during his inaugural address for the SMU Visionary Series.
But rather than fear the replacement of a human workforce with artificial intelligence, Mr Chen emphasised the need for innovation that harnessed the potential of technology in the service of human values and culture.
Technological tools can "help nurture a better value system", he pointed out. "How do we use these tools to touch everyone's souls, and create content to reflect our values and culture, to cultivate future leaders and future technological innovation, and train people to embrace the future? Is the machine controlling mankind, or vice versa? We are at the point when we have to rely on human values, such that no matter the innovation, humans are the masters of technology."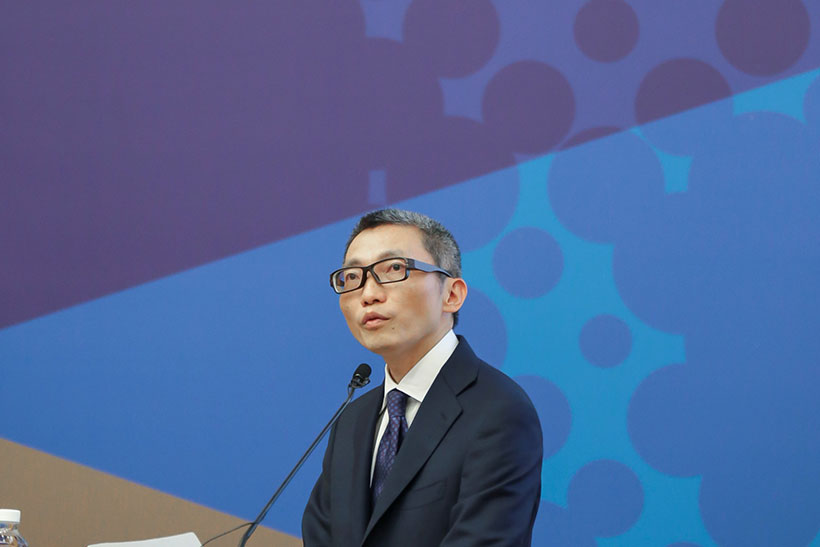 Dr.Chen Yidan at the inaugural lecture of the SMU Visionary Series.
Educational institutions are a key springboard for this vision of the future, said Mr Chen, whose SMU address was themed Zero to Infinity: How Education Unlocks Endless Possibilities. He retired as Tencent's chief administration officer in 2013, and has devoted his time – and a substantial slice of his fortune – to boosting the efforts of educators around the world through the Yidan Prize.
Established in 2016, the initiative comprises the Yidan Prize for Education Research and the Yidan Prize for Education Development. It is the world's largest education award of its kind in pecuniary terms, and aims to tap on the power of tech to propel innovation in education, and to empower change-makers in education. This global community of leaders and disruptors in education can then help prepare the next generation of human talent during this fourth industrial revolution of rapid innovation and change.
"Nurturing innovative human capital and increasing inventive skills through well-planned educational policies and interventions have the potential to spur a wide range of innovative outcomes," Mr Chen believed.
Nurturing human potential is a fitting cause for the man dubbed the "godfather of Internet philanthropy". After graduating with a bachelor's degree in applied chemistry from Shenzhen University, followed by a master's in economic law from Nanjing University, Mr Chen founded Tencent in 1998 with four other classmates and friends to ride on the wave of accelerated information technology growth in China.
The Chinese tech giant, which is behind popular messaging app WeChat, has grown to become the world's largest gaming company, with a market cap of US$429 billion. But from the beginning, Chen had his mind on more than growth — at a time when few private companies combined their business ambitions with charitable goals, he established the Tencent Charity Foundation to fund a range of non-profit projects.
These days, his focus on education has him pondering the symbiotic bonds between industry innovation and institutions of higher learning. For example, Stanford University and the Silicon Valley in California, USA, form an ecosystem which fosters and reinforces innovation in both communities, he noted.
Silicon Valley has licensed 8,000 inventions that originated on the Stanford campus, and as many as 5,000 companies can be traced back to Stanford educators and students. These include heavyweights such as Google, Cisco, Sun Microsystems, eBay, Netflix and LinkedIn.
"The chemistry between Stanford University and Silicon Valley is a perfect symbol of how schools and the private sector can strive together, and reinforce innovation in each other's DNA," he said. Members of Stanford's diverse student body are encouraged to learn for the sake of learning, to take risks, try new things and discover new terrains. And when their innovative ideas are fed into Silicon Valley's tech sector, "a powerful creative synergy is born".
Fundamentally, education is also a powerful expression of human values across time, space and cultures. ""Education begins with the individual, but its impact extends far beyond the individual," said Mr Chen. "The teacher-student relationship carries a lineage of knowledge, skills and beliefs that is the crystalisation of the teacher's wisdom."
This relationship "carries the hope of society", he believed. "Education is the backbone of modern civilisation. It is the force for technological innovation, social progress, cultural and life values, and justice and equality."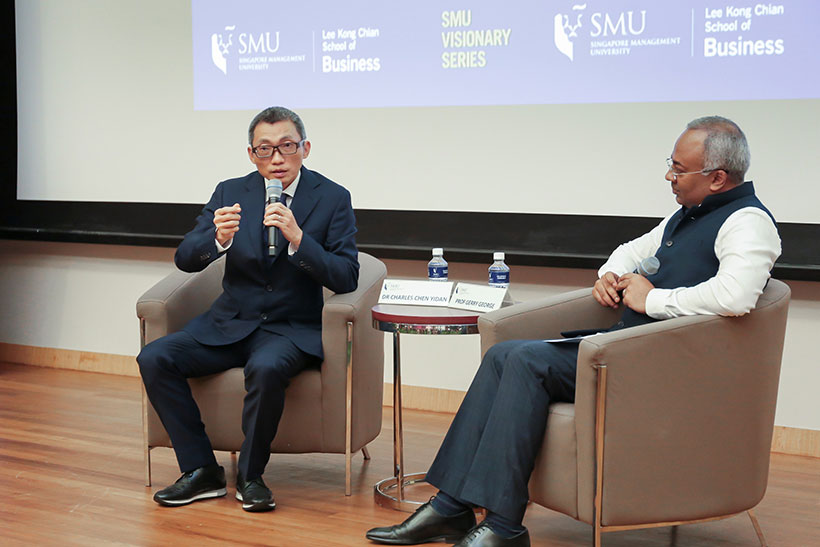 Dr.Chen in a lively Question and Answer session moderated by Dean, SMU Lee Kong Chian School of Business Prof Gerry George (R).
See also: Unlocking endless opportunities through education