From solving environmental woes to exposing corruption, the cryptography-linked technology can become a powerful catalyst for social change.
While it is currently not used as widely as initially predicted, blockchain continues to generate significant buzz among investors and businesses. Decentralised, transparent and highly secure, blockchain promises to revolutionise traditionally opaque practices within governments and corporations such as banks, which have become increasingly receptive due to blockchain's potential to save them billions annually. Besides its commercial applications, blockchain can potentially drive positive social change, from providing transparent monitoring of supply chains to tracking the origins of our food.
In the fourth episode of topical talk show programme Perspectives – a collaboration between SMU and Channel NewsAsia – leading thinkers and influencers from academia and the private sector shared their views on whether blockchain technology can be beneficial to society.
The panel comprised Paul Griffin, Associate Professor of Information Systems (Practice) and Director of the MITB (Financial Technology and Analytics) programme at SMU; Ms Zann Kwan, Co-Founder of Bitcoin Exchange; Ms Tay Bee Kheng, Managing Director for Singapore and Brunei at Cisco Systems; and Mr Chua Hock Lai, President of the Singapore Fintech Association.
Solving environmental problems and proving authenticity
According to Paul Griffin, trust is integral particularly in today's multifaceted business world, and blockchain can plug the gap with transformational technology.
"You can trust the data because it is encrypted, hashed and linked together, and there is a fully automated system administration and access control. It is all done through smart contracts and computers," he said, referencing self-executing contracts that do not require a legal system or central authority.
The trust engendered by blockchain is also due to its immutability (once data is written into a blockchain, it can't be altered). This can give a valuable boost to various social enterprises, such as those promoting renewable energy.
Chua Hock Lai, who is also the co-founder of a renewable energy start-up, shared that his company has invented a smart meter that tracks the amount of renewable energy generated from solar and wind farms.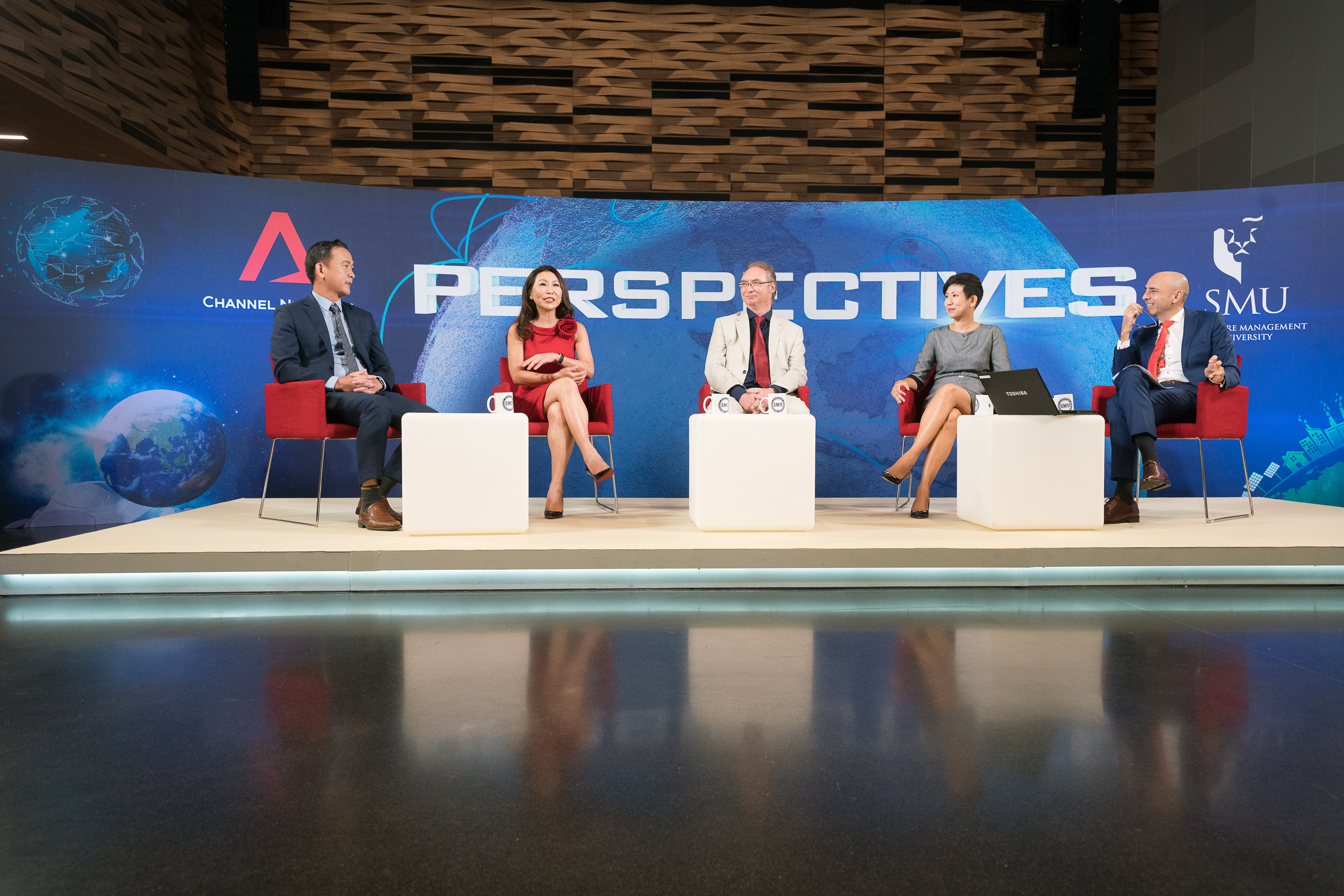 Panellists (from left) Chua Hock Lai, Tay Bee Kheng, Paul Griffin and Zann Kwan, with presenter Teymoor Nabili.
"The record is immutable, so we are able to store the renewable energy certificates on the blockchain into a trading platform, which enables buyers such as Apple and Facebook to come to the platform and buy renewable energy," he noted.
Blockchain can also improve food safety by ensuring the authenticity of products, said Tay Bee Kheng, citing a Cisco project that validates the origins of human milk while working on a carrier solution for a hospital.
"We are working to use a blockchain network to carry information from the Internet Of Things (IOT) device, which includes the temperature sensor, how the milk is being transported and the supply chain."
Narrowing financial inequality and exposing corruption
On a wider scale, blockchain can improve the lives of those who have traditionally struggled to secure basic financial services. According to Zann Kwan, almost half a billion people in Southeast Asia do not have access to bank services; some may have bank accounts, but are unable to get loans or insurance services. Implementing blockchain in financial services can reduce the costs of on-boarding this huge group of potential bank customers and help them to achieve their financial goals.
"These people can have access to tokenise their assets, and with that, they will have access to insurance or loans, or they can even diversify their asset holdings," said Zann, noting that blockchain's qualities of 'democratisation' and trustworthiness are transforming traditional financial services.
She also observed that blockchain technology can quickly expose corruption, thereby preventing fraudulent crimes. She likened blockchain to the feeling of accountability when one is accompanied by a child. "When there's a child with you, you tend to behave better. So with blockchain, individuals and companies tend to behave better."
Expanding the use of blockchain
Ultimately, the panel was unanimous in its belief that despite its primary image of being a profit-driver, blockchain can be a powerful force for social good. Paul pointed out that there were hundreds of social enterprise projects utilising blockchain technology just last year alone, a movement that can only grow.
Echoing his sentiment was Bee Kheng, who posited that blockchain can play an important role in major companies' corporate social responsibility programmes. "From the enterprise, we can extend out to do social good. I hope to see my company do that for humanity and use technology for social good," she said.
Hock Lai concluded that most blockchain developers have altruistic intentions, but more needs to be done in terms of regulating its use for it to be adopted on a larger scale. "If we focus more on fostering a sustainable environment and financial inclusion, then people will be more tolerant of the use of blockchain technology here."