It has come to a point where it is no longer enough for tertiary education institutions to be producing a workforce that will be mere cogs in the machine that is our society. Instead, in a time of climate change, political uncertainty and rapid technological advancements, universities are now expected to produce future-ready global citizens who have the vision and drive to make a meaningful social impact.
In her Inaugural Address on February 12, newly-appointed SMU President Lily Kong said: "Impact is about delivering a holistic and transformative education which then enables our students and graduates to make a meaningful impact on the world. Impact is also about addressing societal challenges through research, which produces knowledge, insights and methods that contribute to improving our world."
In order to ignite positive impact through research, SMU has recently launched a new webpage containing a richly populated repository of videos, podcast, feature articles and publications to showcase what SMU researchers are doing to address important societal challenges.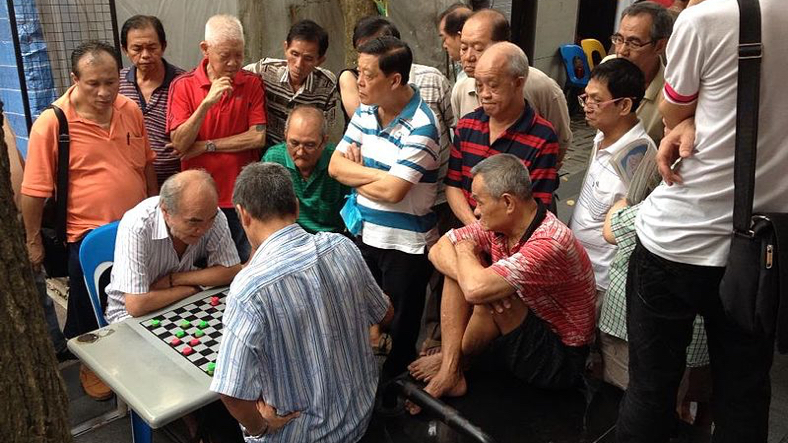 Elderly men playing board games in Singapore's Chinatown. Research by the SMU Centre for Research into the Economics of Ageing (CREA) may provide both the scientific knowledge and necessary insights to inform policy making, and eventually contribute towards improving the lives of everyday Singaporeans.
"We have engaged colleagues in discussions in the last several months, and we now define five societal challenge areas as our areas of focus. Each calls on interdisciplinary and multidisciplinary contributions in order to make significant difference and impact," explained Professor Kong.
The five areas are:
1. Interpreting economies and financial markets
Changes in the financial market such as economic growth and evolving regulations may sometimes sound like an abstract concept, but there's no denying that their effects are felt by all. The soundness, resilience and risks of markets affect not just accounting, finance and economics, but also fields like trade, law, and business. That's why deeper research is necessary in order to not just understand but also harness the untapped potential of big data in the finance industry and make these insights more accessible. The Sim Kee Boon Institute for Financial Economics – an international institute for applied financial and economic research – is an example of SMU's efforts in building up its research capabilities and contributions within this area. The institute works in five main areas: Financial Innovation, Financial Inclusion, Asset Management, Capital Markets, and Corporate Finance.
2. Strengthening social fabric and quality of life
At the heart of any country is its people, so in the face of ageing populations, growing income inequality and increasing diversity in race, language, religion and social status, it has become more crucial than before to foster cohesion between people and communities. To pave the way, researchers are studying topics like fairness, trust, ethics, social inclusion, exclusion, inequality, successful ageing, as well as the wellbeing of individuals and various groups.
To this end, the SMU Centre for Research into the Economics of Ageing (CREA) is conducting an ongoing survey called the Singapore Life Panel (SLP), where data is collected from over 10,000 individuals every month on topics including health, wealth, employment and consumption. The findings from this survey can provide both the scientific knowledge and necessary insights to inform policy making, and eventually contribute towards improving the lives of everyday Singaporeans.
3. Navigating boundaries and borders
In our world today, personal and cultural boundaries, and geographic borders are blurring and sharpening at the same time. We also see an increasing frequency of personal, organisational, social and political relationships simultaneously involving competition, co-operation and conflict. These are challenging circumstances to navigate, and to address challenges that may arise in a globalised milieu, research in this field focuses on areas such as trans-border issues when it comes to politics, law, trade, investment and commerce, studies on collaboration and leadership across borders, as well as the interactions between various cultures, and the cross-cultural differences that arise.
Research from the Centre for Cross Border Commercial Law in Asia contributes to this area, with the aim to be the leading Asian centre of research in commercial law which is informed by a variety of research methods including doctrinal, theoretical, empirical, historical and comparative perspectives.
4. Managing for sustainability
Sustainability is the ability to maintain activities at a certain rate or level in ways that do not jeopardise or constrain options for future generations. It is increasingly clear that current practices of production and consumption are unsustainable. So in the journey towards greater sustainability, SMU research examines environment-related topics like the effects of adopting electrical vehicles, renewable energy and sustainable agriculture, while also looking into ways to improve decision-making processes, management, and succession planning in businesses.
The Fujitsu-SMU Urban Computing and Engineering (UNiCEN) Corp. Lab, jointly funded by Fujitsu Limited and the National Research Foundation under the Corp Lab @ University Scheme, research into ways to create capabilities and smart software technology to manage urban problems, while constrained by existing manpower, space and transportation infrastructures.
5. Advancing innovation and technology
Once we imagine a better world, we need a way to get there. Innovation and entrepreneurship are so important to this way forward because they lead to the demonstration of paradigm shifts that are new economically viable ways of doing things. Technology is also a critical enabler for this way forward. SMU's research in this field includes harnessing advanced data analytics to gain more insight, and studying both automated and augmented intelligence and their related applications for the betterment of businesses and society as a whole.
The Living Analytics Research Centre (LARC), in partnership with Carnegie Mellon University, combines analytics R&D in areas such as community liveability, urban mobility, jobs/skills intelligence, and healthy lifestyle to enhance people's well-being, and to support Singapore's Smart Nation drive to leverage data and technology to create conveniences for citizens, enterprise efficacy and opportunities for all.
"As part of being in the city, we want SMU to be the university where it is natural for "industry" to turn to us to develop ideas, lend thought leadership and offer solutions." Professor Kong concluded.
For more information, visit www.smu.edu.sg/research