SMU President Professor Lily Kong delivered her fifth President's State of the University Address (PSOUA) on 12 October 2023 at SMU Hall, to more than 600 members of the SMU community. While her address touched on significant developments, strategic priorities, as well as future endeavours, it took a new and engaging format in embracing SMU's people-centric thrust: faculty, staff and students shared their experiences and achievements through a series of videos that Prof Kong narrated.
"I would like to honour the fact that the University is really about all of you. It's about your efforts, your contributions, your reflections, your pride – and I would like you to hear from one another, even as you hear from me," Prof Kong shared as she opened the event.
A commitment to transforming learners of all ages
To start her address, Prof Kong revisited SMU's progress across the strategic thrusts that had been identified in SMU's Vision 2025: Transformative Education, Cutting Edge Research, and Engaged University.
Reflecting on the past year, Prof Kong said that the year had been exceptional for SMU in education, with significant milestones such as the launch of the College of Integrative Studies (CIS) and College of Graduate Research Studies (CGRS).
This year also saw SMU launch a first among universities in Singapore – the co-curricular transcript, which indicates the skills and knowledge that students have demonstrated through their co-curricular activities.
On top of these milestones, existing programmes were nurtured with a focus on innovation. For example, in March 2023, it was announced that SMU was introducing specialisation tracks and a compulsory Law Capstone to its Yong Pung How School of Law's Bachelor of Law and Juris Doctor programmes.
Undertaking cutting-edge research
Delving next into achievements in Cutting Edge Research, she played a video looking back on some of the research conferences organised by SMU over the past year, such as the MIT Asia Conference in Accounting 2023.
Then, it was about the research that SMU has produced, and how some of the research being conducted is making real-world societal impact. The University has also established national and international research partnerships to augment its research capacity and capability.
To keep its work in the forefront of the world, SMU continues to focus on enhancing the quality of its publications – close to 50 per cent of SMU's journal publications were published in research journals in the top 10 per cent globally.
Engaging with the world beyond institutional walls
One of the major ways in which SMU continues to be an Engaged City University is the establishment of the President's External Engagement Council (PEEC), with the aim of developing and implementing strategies that will enhance SMU's reputation, relationships, and influence with external stakeholders.
The initiatives put in place by the PEEC aim to position SMU as a quintessentially Asian institution through internationalisation, to develop SMU as a gateway university that links academia and industry, to encourage innovation and entrepreneurship, and to harness alumni support and promote engagement with the community.
Events such as the SMU Sustainability Series, which focused on engaging with stakeholders and partners to further the discourse on sustainability, are good examples of this.
Enabling SMU's strategies
Underpinning these strategic priorities are three main enablers shared by Prof Kong: people, resources, and infrastructure.
In the area of infrastructure, SMU continues to use innovative green building materials and technologies in new buildings such as the School of Social Sciences (SOSS) and College of Integrative Sciences (CIS) building. SMU is also actively working towards workplace transformation, with focus groups and surveys being conducted to get staff feedback on the direction that this transformation should take.
These strategies and enablers will continue to play a big role in 2024 – but the transformation does not stop there. SMU will also be embarking on a strategic visioning exercise to define a new vision, mission, and values for the University beyond 2025, establishing the next five-year strategic plan.
"Charting our next phase of growth will be a collaborative process, requiring us to continue working together as One SMU to determine our priorities and goals," Prof Kong said as she reflected on the next leg of SMU's journey.
"To use my gardening metaphor from previous PSOUAs, we have already begun to look beyond our garden fence to the broad meadows beyond."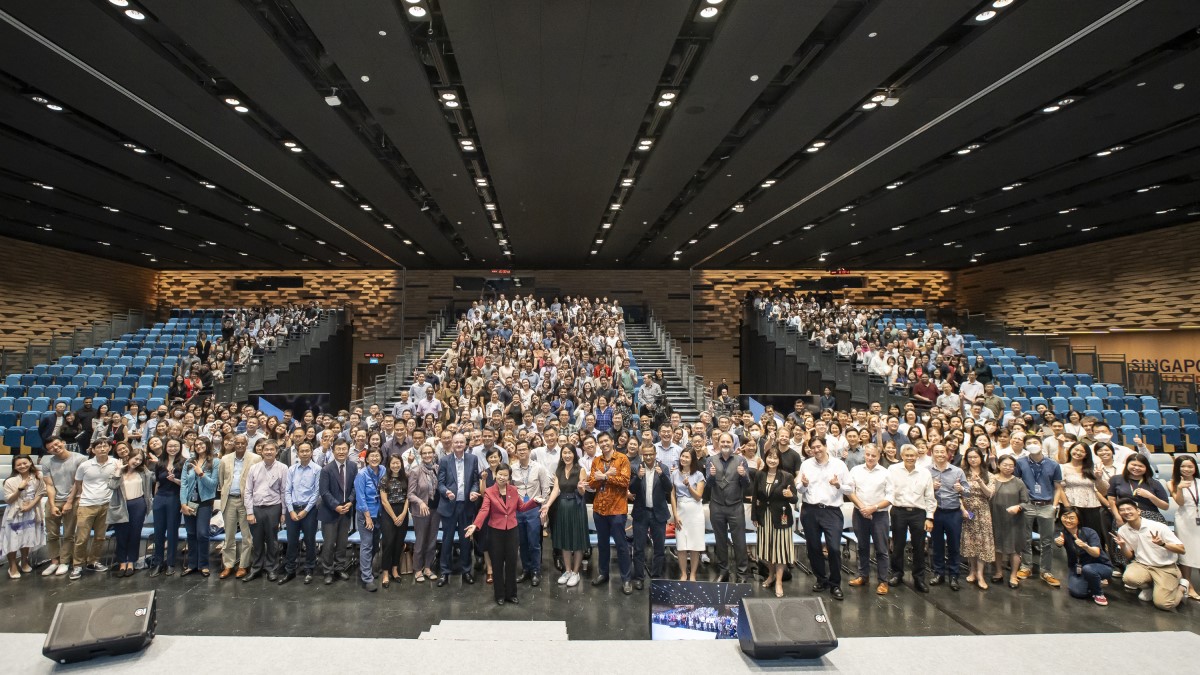 See also: SMU President's State of the University Address 2023.