University campuses — with their sprawling lawns that serve as a heartbeat of a vibrant student body; award-winning architectural monoliths; and cosy seminar rooms that encourage lively debate — are traditionally thought of as physical epicentres for inspiring discovery and thought. Covid-19, however, has transformed higher education the world over, triggering a need to pivot existing institutions, and for educators to delve deep into newer, and sometimes better ways of delivering learning outcomes.
To this end, this year's The Straits Times (ST) Education Forum revolved around the topic of "Reimagining Universities, Post-Covid", to examine the ripple effects of the Covid-19 pandemic on higher education and the changes that will result. Streamed online as a webinar, the forum panellists included then-Education Minister Lawrence Wong, SMU President Professor Lily Kong, and ST's Senior Education Correspondent Sandra Davie, with moderator Ms Lydia Lim, Head, SPH Schools and Education.
Several changes brought to the forefront by the pandemic were already set in motion by forward-thinking universities, prior to the onset of Covid-19. As Mr Wong pointed out, "it's a continual work in progress that we must keep on improving and doing better, and Covid-19 will accelerate many of the trends and driving forces we face in the university sector".
Here are four ways SMU is on track to reimagining university education, both during the pandemic, and beyond.
1. Blended learning
With safe distancing a key measure in reducing the spread of Covid-19, the closure of schools and shift to online learning platforms was a reality that most educational institutions had to face. Consequently, there was much talk about remote education becoming a new normal for students, with laptops and virtual lessons replacing the need for long commutes, group discussions in libraries, and in-person lectures and seminars.
However, most panellists agreed that as much as traditional classroom teaching has been disrupted, universities and schools will not be replaced anytime soon by virtual experiences. "Learning is still very much a relational activity and human contact is essential," said Mr Wong. "But increasingly, we will see a combination of online and classroom — what we call blended learning, or even flipped classrooms, and that's likely to become the new norm."
The flipped classroom is a rising trend in education, whereby content is introduced to students at home followed by its practical application in school. This is a form of blended learning — an approach that melds online learning with place-based teaching methods.
"We know that when we're in group discussions and working on projects, the interactions are fluid and multiple," remarked Prof Kong. "And we are interjecting, and we are showing our different documents at the same time. We're doodling, sketching and mapping. I don't think we will see everything going online."
2. Industry collaboration
Another challenge faced by universities, even prior to the pandemic, lies in preparing students for the realities of a fast-changing, digitally-disrupted world. The professional capabilities demanded by today's globalised, technologically driven organisations are highly complex. As such, institutions of higher learning face the pressures of synthesising classroom knowledge with real-world applications.
Mr Wong called for closer collaborations between universities and industry, stating that "when universities don't move fast enough, then they become at risk of being disrupted".
Fortunately for SMU students and graduates, the University has long embarked on multifaceted strategies to engage external organisations in crafting hands-on learning experiences. Prof Kong cited programmes in areas like data analytics and coding that have been co-developed with Google Singapore, as well as work-study arrangements with SingHealth that were co-created with the latter's senior leaders.
Furthermore, the SMU-X programme includes working projects for businesses, government bodies, and community services, designed such that students learn through working with multidisciplinary groups, with industry mentors, and with a faculty mentor" to prepare them for the world of work.
3. Broad based education
Another way that universities have been retooling their teaching methodology is by shifting away from the classic lecture format — synonymous with a passive, minimally engaging form of traditional teaching.
"It's not just lectures any more. You have a whole range of different types of programmes. You have seminars, collaborative projects, overseas opportunities, service based learning internships, capstone projects," noted Mr Wong. "It's quite a rich and diverse range of offerings, for example, in areas like digital literacy, innovation, entrepreneurship, communication and soft skills — these are all very important and relevant."
Instead of lectures, SMU has since inception, employed seminar-style teaching and highly interactive learning in small-sized classes. This underscores the University's interactive pedagogy, encouraging strong professor-student interaction, open discussions and the exchange of ideas.
"We also want our students to be able to navigate different cultures, to see things from different perspectives, to learn to be independent, to be resourceful to be resilient, and to be empathetic," added Prof Kong. "And under normal circumstances, this means that we send our students out into the community, to different parts of the world for exchange programmes, on community projects, internships, and so forth."
Since the pandemic, such interactions have gone online, through virtual exchange programmes, the co-creation of courses with partner universities, and remote internships.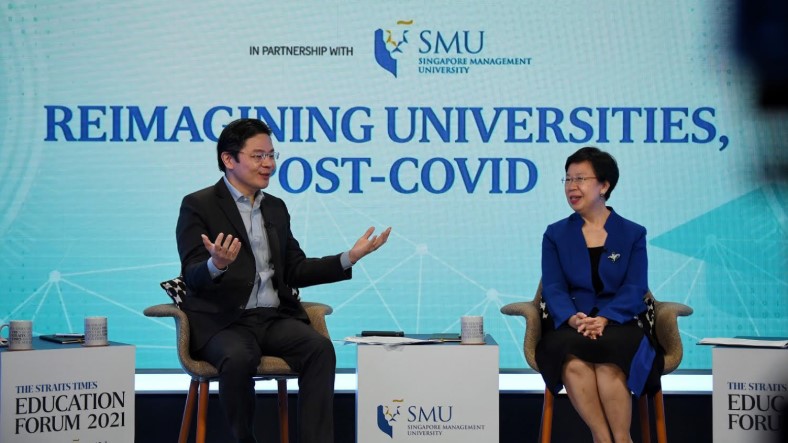 4. Digital transformation
The use of digital capabilities by educators around the world has been widespread even before Covid-19. However, the pandemic has fast-tracked the adoption of tech in higher education.
"What the pandemic has done is really forced universities to go online," observed Ms Davie. "And try out these different modes, the different models; adapt, adjust, have a look at the limitations; as well as the advantages to be accrued from trying it and doing it differently."
While digital tools were pivotal in supporting remote learning alternatives in the midst of safe distancing, Prof Kong cautioned against the widespread adoption of technology for the sake of disruption: "The more important question is, 'what are the outcomes of higher education that we hope to see, and what's the best way of delivering those outcomes'?"
She added that technology provides powerful content platforms for accessing resources such as videos and podcasts, enabling students to learn at their own pace, "because we all learn at a different pace, we all learn in different ways, and you can pause, you can replay, you can go back and listen again."
But beyond the consumption of content and knowledge, learning outcomes also encompass nurturing students in problem solving, and critical and design thinking methodology, as well as the ability to offer new perspectives on key issues.
"And this, in my view, is best done through discussion, through debate through working on real-world projects, and often working together in groups, because you bring together different perspectives to bear on a particular challenge or project," explained Prof Kong.