Over 400 athletes from Singapore competed in the 19th Asian Games Hangzhou in China. Running from 23 September to 8 October 2023, it featured Singapore's largest delegation yet – 160 athletes more than represented our country at the 2018 Asian Games five years ago.
The delegation brought home a total of 16 medals – three Gold, six Silver and seven Bronze across disciplines like Athletics, Wushu, and Sailing. And SMU shares in this pride with three of its own bringing home medals – sprinter Shanti Pereira and, who is an alumna of SMU's School of Accountancy (SOA), sailor Kimberly Lim, who graduated earlier this year from SOA, and wushu exponent Jowen Lim, from SMU's Lee Kong Chian School of Business (LKCSB).
As we look at the journeys of SMU athletes in the Asian games, we extend our heartiest congratulations to all participants.
Pushing past self-doubt
For Shanti, the Asian Games has been an incredible one, culminating in two medals – a Silver in the Women's 100m and a historic 200m Gold.
The 200m race was a dramatic one, with the race having to be restarted after Bahrain's Salwa Eid Naser, the 2019 world champion in the 400m, was disqualified for a false start, but Shanti did not let this affect her.
Slightly over 23 seconds later, she emerged victorious.
The field that night included 2014 winner Olga Safronova of Kazakhstan and Bahraini Odiong, who bagged Golds in both the 100m and 200m events in 2018.
Shanti's Gold is Singapore's first in track and field at the Asian Games since Chee Swee Lee won the women's 400m back in 1974.
This victory adds to a stellar year for Shanti, who clinched Golds in the 100m and 200m Cambodia SEA Games and again in the Asian Athletics Championships. She also met the Paris 2024 Olympic qualifying mark at the World Athletics Championships back in August.
Her journey has not always been an easy one, and Shanti has been open about her struggles, such as in a recent interview with The Straits Times. After a stellar 2015, her sprinting stagnated; but thanks to her gradual rediscovery of her love for sprinting, and good coaching, her story is a reminder that failure does not signal the end – unless you let it.
Paths are forged, not set in stone
Wushu exponent Jowen won another historic medal for Singapore, clinching a wushu Silver at the Asian games. His medal is also Singapore's first daoshu (broadsword) and gunshu (cudgel) all-round medal at the Games.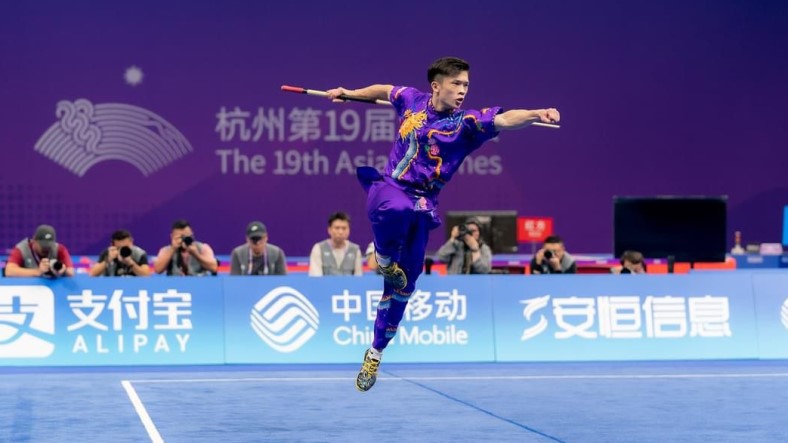 These components fall under the taolu (set routine) umbrella in wushu, and athletes are scored based on the quality of their movements, their overall performance, as well as the degree of difficulty in their routine.
Coming out of the daoshu segment third, Jowen remained focused for the gunshu component and managed to overtake Chinese Taipei's Wang Cheng-ming, finishing second with a combined score of 19.476.
Since February, Jowen has taken a year-long leave of absence (LOA) from SMU to train full-time. He said, "I am so thankful that SMU was able to support my wish to train full time this year. It helped a lot knowing that my profs and friends from SMU were also supportive of my decision to take this LOA."
Not always smooth sailing
Kimberly Lim and her partner Cecilia Low had previously clinched the Gold medal in the 2018 Asian Games in the 49erFX class – they also participated in the 2020 Summer Olympics, which saw Kimberly taking a leave of absence from her studies at SMU.
The pair were aiming to retain their Asiad Gold amid a much tougher challenge, with many of their rivals gaining more experience over the past five years.
For the 49erFX duo, finishing third was undoubtedly disappointing – but the pair are not about to let it deter them. They are working towards the Asian qualifiers for the Olympic games – a daunting task with the equipment changes for the Paris Games, which look set to make a huge difference.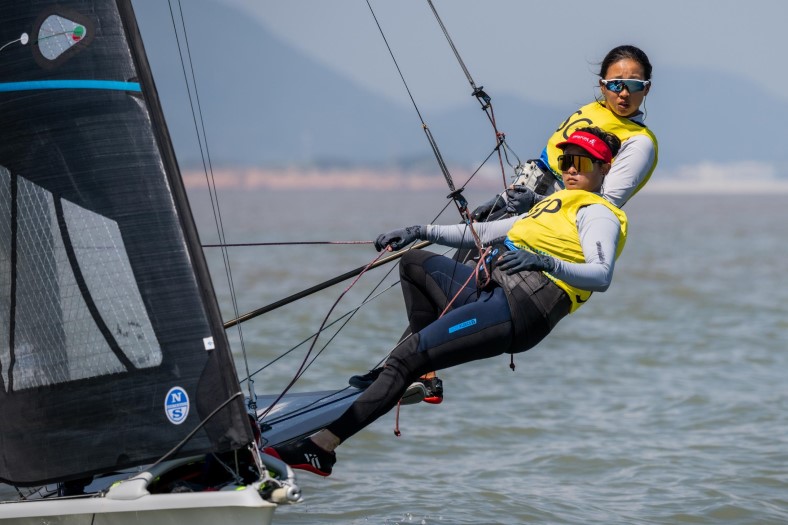 Kimberly, who graduated from SMU this year, said "Thank you SMU for the years of support – from realising my Olympic dream to pursuing the recent Asian Games as an undergraduate. I'll continue to do my best as an SMU alumna in my future endeavours." 
We wish the duo, as well as all other SMU and national athletes the very best as they work towards their next goals and celebrate their passion and dedication to their sports.